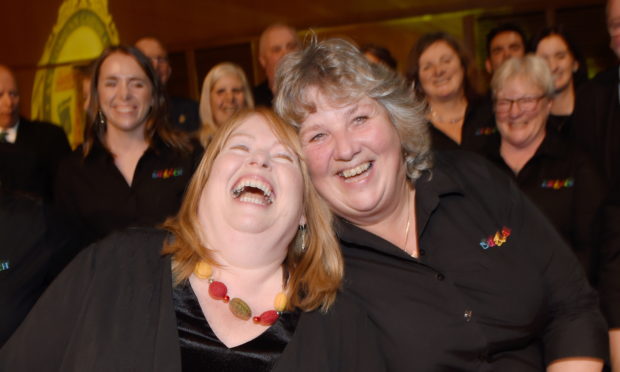 Choirs from across the north are walking away from the Royal National Mod as champions following a tough day of competitions in Glasgow.
The Isle of Mull Gaelic Choir became the first winners of the day, taking four awards in the morning's ladies contest.
The group, made up of 28 members, was awarded the Grampian Television Trophy as well as the Angus MacTavish Memorial Trophy and Rotary Club of Blairgowrie Trophy.
Conductor Elizabeth Jack, 69, was also presented with the Rod MacKenzie, Sgir' a' Bhac Memorial Baton following the choir's outstanding performance.
Their success was swiftly followed by Còisir Ghàidhlig Chàrlabhaigh from Carloway on Lewis, who became the recipients of the Aline MacKenzie Memorial Trophy.
Conductor Mairi MacLeod, daughter of the late John Macleod, former president of An Comunn Gàidhealach from 2007 to 2017, was presented with the John Young Memorial Baton.
The 22-strong group also became the recipients of the Calum Robertson Memorial Trophy as well as coming joint first for the Evelyn Huckbody Memorial Trophy.
Ms MacLeod, a 32-year-old music teacher, said: "I'm speechless. My dad was in the choir and he passed away 18 months ago. He would have loved it.
"Gaelic is a major thing in our choir and it means an awful lot. We absolutely love singing and they were singing out Carloway anthem as I came onto the stage. We just sing all the time."
During the first of the afternoon's competitions, which were held in the main auditorium, Coisir Sgir' a' Bhac earned The Lord Shield and a host of other accolades.
After performing a prescribed song and a song of their choice – both composed by Kenny Thomson – the group were awarded first place.
After topping the leader board, the group received the Captain Angus Stewart Trophy for gaining the highest marks in music and the Sandy Heron Cup for their marks in music across three separate competitions.
Meanwhile, conductor of 17 years Avril Allen was awarded The Mrs Catherine C MacDonald Silver Baton.
Highland choir Bùrach were awarded the title of champions as the day's rural choir competitions drew to a close.
Their performance in Glasgow marks their seventh appearance at the Royal National Mod and their third consecutive win.
Following a tough afternoon of competitions by six choirs from across the country, the group – conducted by Riona Whyte – was awarded the Sheriff MacMaster Campbell Memorial Quaich and the Selma Shield for the highest marks in Gaelic.
The 57-year-old conductor, who lives on the Isle of Mull, said: "We are always shocked but they did a great job. I think we were all pleased with the way we performed.
"It's quite unbelievable. We are a very young choir, in terms of the other choirs in the competition."