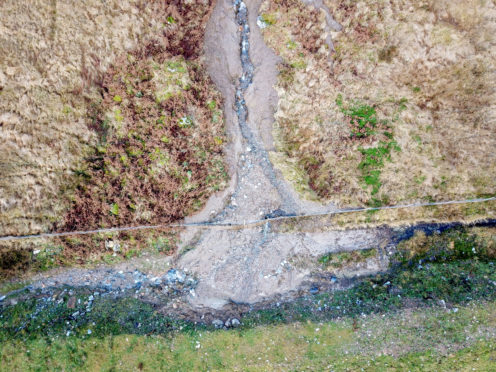 Innovative landslip mitigation measures installed at the notorious Rest and Be Thankful have been successful in preventing a 300-tonne landslide from reaching the roadside.
The landslip was blocked from reaching the A83 Tarbet to Campbeltown road at Glen Kinglas thanks to specially designed rock-bunds.
These were the result of an engineering solution using excavated rock during the construction of further landslip mitigation measures at the catch-pit project just three miles away.
The landslip occurred around 755ft above the carriageway following a period of heavy rainfall near midnight on Saturday, when teams from BEAR Scotland had been on high-alert during the Met Office yellow weather warning.
Engineers estimate that the rock bunds helped prevent the A83 from being closed by up to two days as a result of the landslip, avoiding disruption to road users.
Plans are now underway to remove the debris from behind the bund. Short-term lane closures will be in place while teams mobilise plant and heavy machinery to remove the material.
The rock-bunds form a barrier on the hillside parallel to the A83, and mean that material from a potential landslip is held behind the barrier.
Eddie Ross, BEAR Scotland's North West Representative said:  "The bunds at Glen Kinglas have performed as designed and have been successful in preventing around 300-tonnes of landslip material from over 700ft above the road reaching the carriageway."