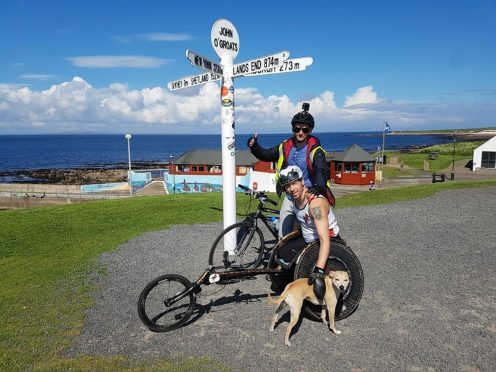 An athlete has become the first person in history to complete the gruelling journey from Land's End to John O'Groats in a wheelchair.
Anthony Gotts from Rossendale, Lancashire, completed the punishing 900 mile push in just 20 days, using arm power alone and setting a new world record.
The 32-year-old set off on June 14 and originally aimed to complete the journey in 28 days.
However, he was able to push an impressive 40 to 50 miles a day for three weeks, without any rest day – finishing his record attempt on Sunday.
Mr Gotts was in training for London Olympic selection until a horrific accident sustained while taking part in a long jump competition resulted in torn muscles and a broken pelvis so severe that he eventually lost the use of both legs.
Athletics had been his life, and he became depressed and broke: He said: "I went from being a top runner, aiming for the Olympic trials, to being in a wheelchair, needing carers in my house. I needed counselling and there were a lot of dark days.
"I was on 38 pills a day, I put on three stone in weight due to being inactive and the drugs, I felt fat, no clothes would fit me and I was on benefits."
Eventually finding a club with a disabled group, Anthony made his way back to fitness, and despite his injuries, he has competed in the World Marathon Championships in London and in several races across Europe with more determination than ever before.
Throughout his LEJOG challenge, Anthony has been fundraising for the 53 foundation – a charity which raises money and awareness to create active opportunities for people with disabilities.