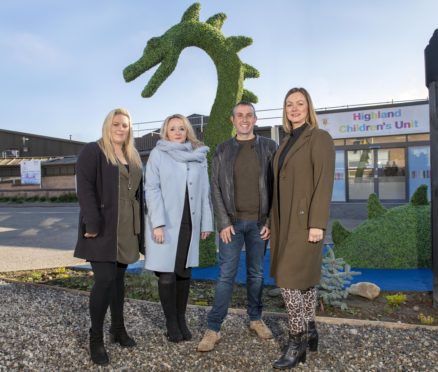 Children at Raigmore Hospital will be able to catch their first glimpse of the Loch Ness Monster following the creation of a vibrant outdoor attraction.
The 30ft Nessie topiary sculpture will form the centrepiece of the newly transformed gardens outside the children's ward – providing all-weather play areas for the facility's youngest patients.
The transformation is part of the Archie Foundation charity's project to allow more poorly children to enjoy the fresh air, which was launched following a £139,000 cash boost through public donations.
The signature sculpture – which is based at the entrance to the unit – was brought to life following a generous donation from Fort Augustus-based family business Cruise Loch Ness which runs regular voyages on the expanse.
the firm's director, Debi Mackenzie, said she hopes the new addition will bring happiness to young patients.
She said: "We hope that the 30ft Nessie sculpture centrepiece we are sponsoring will bring some joy to young patient's lives at a time that must be very difficult for them.
"Our business brings people out into the fresh air of Loch Ness, so what better fit for us than to support this initiative."
Work on the vibrant outdoor scheme began in July after the charity surpassed its initial fundraising target of £100,000.
Following completion in the coming weeks, the grounds will feature a series of planted flowers and huge topiary animals.
The Archie Foundation is the official benefactor of the unit at Raigmore, with the sole aim of making a difference to young patients receiving treatment.
Chair of the local fundraising board, Mary Nimmo, said: "It has been an absolute pleasure to work with Ronald and Debi from Cruise Loch Ness on this vital project.
"They have been incredibly generous with their time and resources.
"On behalf of the Archie Foundation and all of the sick children and their loved ones, we express our most sincere thank you."