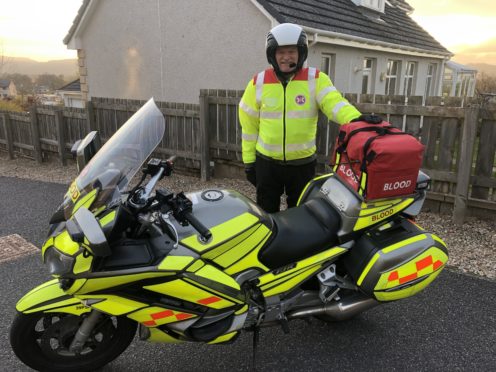 A charity set up to deliver vital medical supplies and blood samples has been thrust into the frontline to help with coronavirus testing.
The Highlands and Islands Blood Bikes (HAIBB) group is now being used to transport samples of suspected Covid-19 cases to a dedicated laboratory in Inverness from locations across the north.
Initially, HAIBB had only been instructed to conduct a six-month trial on behalf of NHS Highland, operating in the evenings and weekends transporting blood samples.
The charity has now become operational seven days a week from 6am to 8pm with bosses stating that it is "ready to play its part to help combat Covid-19".
Ross Sharp, HAIBB president, said: "The setup of the charity has taken us about a year and it is only since March that we become fully operational, on a trial basis to see how things go.
"Covid-19 has changed all this and we were delighted to be asked to do much more."
The charity is part of a larger Nationwide Association of Blood Bikes with all riders offering their time on a volunteer basis.
Riders have also gone through vigorous training by NHS Highland in product handling.
HAIBB have said they are proud to assist and have urged residents who see riders out and about to offer a wave.
Mr Sharp added: "They are doing it for free, free to our NHS."