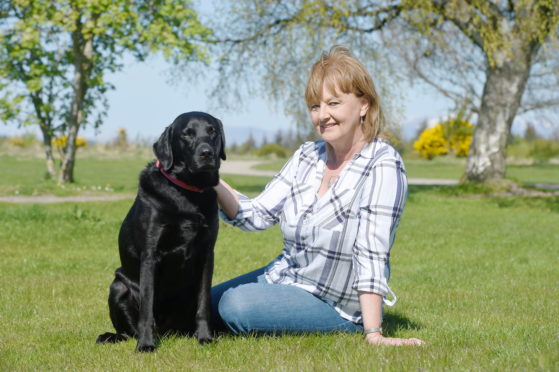 Chest Heart and Stroke Scotland says it has been "overwhelmed" with the number of volunteers willing to help others during lockdown.
Eleanor Dexter, from Inverness, is one of more than 5,000 people from across Scotland helping vulnerable people through the charity.
A spokeswoman said: "One Scot a minute signed up to the largest volunteer drive that Scotland had seen in a generation.
"People living with chest, heart and stroke conditions are amongst the most vulnerable people during the coronavirus pandemic."
Mrs Dexter is a retired health visitor and said being a volunteer has been beneficial for her as well as the elderly couple she is helping.
She said: "I walk their dog for them almost everyday and I'm there to help them in other ways like picking up prescriptions for them or posting any letters.
"It's quite flexible, they have my contact number and I'm there to help them with whatever they may need. Keeping a safe distance, it's been good being able to have a chat with them when walking their dog in the afternoons. It's small interactions like this that people are missing."
Other ways to help include making regular phone calls or getting shopping.
Chest, Heart and Stroke Scotland's chief executive Jane-Claire Judson said: "We have been overwhelmed by the amazing response we have had from volunteers who want to help people across Scotland."
To request help from a volunteer, call 0808 801 0899.