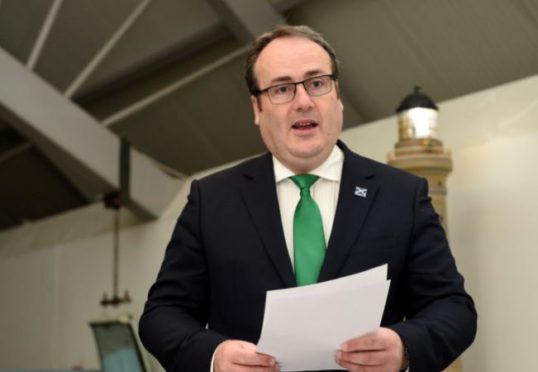 The Scottish Government's decision to award the contract for Northern Isles ferry services to Serco was called into question during a debate at Holyood.
Islands Minister, Paul Wheelhouse, was accused of ripping up a fair work agreement as the Scottish Greens blasted the move.
The agreement in question was signed by the Scottish Government less than a year ago after Mr Wheelhouse named Serco as the preferred bidder for the lifeline ferry contract.
Transport spokesman for the Greens, John Finnie, challenged Mr Wheelhouse about the decision to hand control of the route to the Hampshire-based outsourcing giant for at least six years.
Mr Finnie said the company was responsible for "mass evictions" of asylum seekers in Glasgow and asked if the firm deserved to receive public money.
He added: "The Scottish Government's disgraceful decision to place the lifeline Northern Isles ferry services contract back into the hands of the disreputable Serco puts private profit before island communities.
"Serco's industrial relations record is abysmal and, by offering them yet another public contract, the Scottish Government has effectively ripped up its commitment to fair work."
Mr Wheelhouse defended the decision and claimed Serco had won the Northern Isles contract "fair and square".
The Islands Minister insisted there were "no grounds" for excluding Serco from the competition under the rules and claimed the contract was "completely separate" from the issues Mr Finnie mentioned.
He said Serco was "assessed as providing the most economically advantageous tender to provide high-quality ferry services and value for money for the taxpayer".
Mr Wheelhouse travelled to Aberdeen last week to announce the £450 million deal at the city's harbour.
From January, islanders will be eligible for a 20% year-round discount on cabin fares on the Aberdeen-Kirkwall-Lerwick routes, and a three-year fares freeze will be implemented.
Mr Wheelhouse said: "We want to support the key areas of tourism, fishing, food and drink, aquaculture and farming and help Orkney and Shetland's economies to thrive. These new arrangements will help support that."
Serco managing director for transport, John Whitehurst, pledged to "provide the best service to passengers".