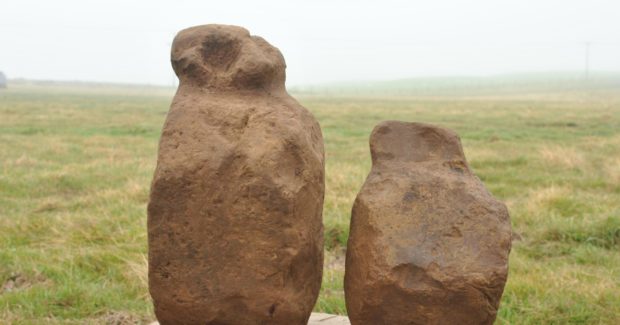 Archaeologists in Orkney have discovered an "amazing" series of ancient mysterious stone-carved objects – measuring in at less than 20 inches high.
The finds were unearthed while completing exploratory archaeological excavations connected with the development of an electrical substation.
In total, nine carved stones have been unearthed in the remains of a structure revealed at the proposed Finstown substation site, after digging through two feet of midden deposits.
Some of the objects look like stylised representations of the human form, while others look more like stones set upright into the floor of a Bronze Age building at the Links of Noltland, Westray. These may have been used to tie mooring ropes onto, to help hold the roof on.
The archaeologists working on site on behalf of SSEN Transmission uncovered the carved stones scattered around a hearth within the remains of an enigmatic structure that contained three cists, two hearths and a partial ring of holes packed with broken off upstanding stones.
Three of the roughly carved figures were also important enough to the people who used the building to be incorporated within the structure of one of the hearths and in the foundations of one of the standing stones.
Dating the necked stones firmly will require further work, since they have also been found on Iron Age sites in Orkney. On initial evidence, the ones from Finstown possibly date to around the Late Neolithic or Early Bronze Age, roughly 2000BC.
Identifying the purpose of these stones, and if they are figurines, will also require further work, with a close study for abrasion, wear and any other marks on these anthropomorphic objects.
Professor Colin Richards from the University of the Highlands and Islands Archaeology Institute said: "This is a significant discovery in Orkney and probably within North West Europe.
"It is very rare to find representations of people in prehistoric Orkney and when found, they are usually individual or in very small groups.
"If they are figurines, to find nine figures within one structure is very exciting and together with the archaeology found at this site has the potential to add to our understanding of Orcadian society in prehistory."
The Orkney Research Centre for Archaeology (Orca) team were also intrigued to uncover direct signs of people working the land some 4000 years ago.
Pete Higgins ORCA Archaeology Project Manager added:"This collaborative project with SSEN gives us the opportunity to examine an important prehistoric site that would otherwise not have been excavated. The exploratory trenches are now recorded and covered over, while the significant artefacts are now cleaned and stored for future study. Discussions will take place on the next steps for the development."
Best finds of the year
A 1,400-year-old Black Isle skeleton has been named among the most amazing archaeological finds of the year.
Scottish archaeology organisation Dig It has named its top five discoveries of 2019 – including one from a 14-year-old schoolboy.
It highlighted a large Norse hall discovered on Rousay in Orkney, which dates back to between the 10th and 12th Centuries.
It also hailed a carved Pictish stone found at an early Christian church site in Dingwall as being of "national importance".
A medieval gravestone in Govan and remnants of the country's first railway track from 1722 were also on the list.
Dig It project manager, Jeff Sanders, said: "Archaeology is all about discovering stories – and new chapters are added to Scotland's story every year.
"These are just some of the amazing finds that have been unearthed in 2019, with other exciting discoveries ranging from a 2,500-year-old seal tooth pendant in Orkney to Pictish hillforts in Aberdeenshire."
Amy Eastwood, head of grants at Historic Environment Scotland, said: "The fantastic archaeological discoveries made this year are key examples of how the historic environment helps our understanding of our past, and we're pleased to support and promote the invaluable work being carried out across Scotland."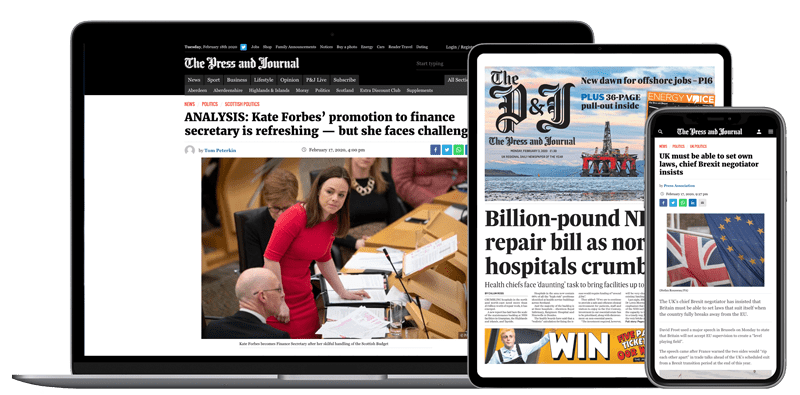 Help support quality local journalism … become a digital subscriber to The Press and Journal
For as little as £5.99 a month you can access all of our content, including Premium articles.
Subscribe