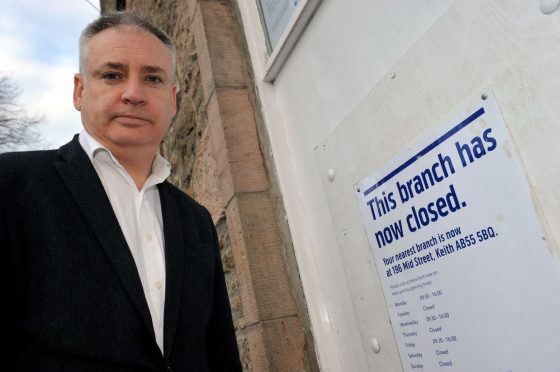 Moray has had the highest proportion of bank closures in Scotland over the last two years.
The Bank of Scotland shut branches in Cullen, Fochabers and Aberlour last month, and the Royal Bank of Scotland closed down buildings in Keith, Lossiemouth and Dufftown in 2015.
Cullen residents have now been left without 24-hour access to a cash machine in the village, and can face an eight-mile trek to Buckie to make withdrawals.
The banks claim that they are looking after people with mobile services and enhanced online and telephone services.
But Moray MSP Richard Lochhead said the figures serve as a stark warning that the region must be prepared to fight to preserve the branches it has left.
He said: "It is alarming that compared to elsewhere, Moray has been hit particularly hard by the closure of bank branches.
"Rural customers are losing out from the lack of personal services from the high street banks yet banks like post offices and other facilities help keep the heart beating in our villages and towns.
"If there are poor transport links to the nearest alternative bank branch or a lack of broadband in some areas then rural customers are left in the lurch by those firms that are pulling out of rural Scotland."
Research done by consumer group Which calculated bank closures per 100,000 people in each region since the beginning of 2015.
Moray has had more than eight closures while the Highlands and Aberdeenshire have had less than one, Aberdeen has had between two and three and Orkney and Shetland have had between four and five.
Fochabers businessman and chairman of the village association, Gordon Christie, said locals were still coming to terms with not having any banks in the village since the Bank of Scotland shut in November.
He said: "It's early days still. There have been problems finding a suitable location for the mobile bank so it has moved around a bit, which has caused confusion.
"Not having a branch in the village is something we've just going to have to put up with from now on."
A Bank of Scotland spokesman said: "We made the difficult decision to close three branches in Moray because there had been a significant decline in the number of customers using them.
"We are fully committed to maintaining a local presence and introduced a new mobile branch service which continues to support the local community.
"All branches have a post office within walking distance and there are regular public transport links to alternative branches."