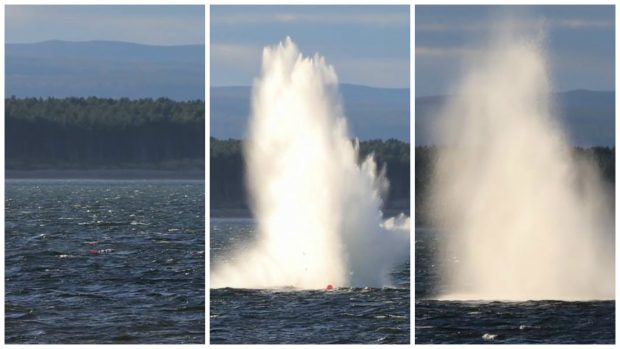 A World War II explosive unearthed during works to create an offshore wind farm has been detonated at a Moray beach.
The calm was broken at peaceful Burghead bay yesterday as the exploding munition blasted water 20ft into the air and sent a boom echoing around the village.
Power giant SSE later confirmed the device had been discovered amid work on the Beatrice offshore wind farm near the Caithness coast.
After being reported on January 7, the 5ft weapon was dropped onto the seabed near the Moray coast to be disposed of by Navy bomb experts.
But foul weather at that time meant it was not safe for the squad to venture out into the sea to blow it up.
Crews from the Faslane naval base in Clyde returned to Moray on Tuesday night, and carefully brought the missile closer inshore.
Shortly after 10am yesterday, divers plunged more than 30ft to where it had been positioned on the seabed to rig the 1,000lb device with explosives.
Windsurfers who had been making the most of the blustery conditions at Burghead were asked to move away from the area as the team went to work.
They placed an orange marker on the waves above the missile, and rowed away before setting off the explosion.
An SSE spokeswoman said the bomb had been discovered during preliminary works on the £2.6billion Beatrice offshore windfarm, which it has a 40% share in.
She said: "Unexploded Ordnance Surveys were being carried out in the Moray Firth in early January, on behalf of Beatrice Offshore Windfarm Ltd.
"Three items of unexploded ordnance were found, of these two were returned to shore for safe disposal and one was handed over to the Navy at Burghead."
A Navy spokeswoman added: "Bomb experts from the Northern Diving Group were first called on January 7, and identified the item as a 5ft by 1ft projectile from World War II.
"But environmental conditions prevented them from disposing of it.
"They returned on Tuesday, and carefully moved it to another location so that it could be disposed of safely."
The 84-turbine Beatrice development in the Moray Firth is expected to bring millions to the north economy, and create hundreds of jobs.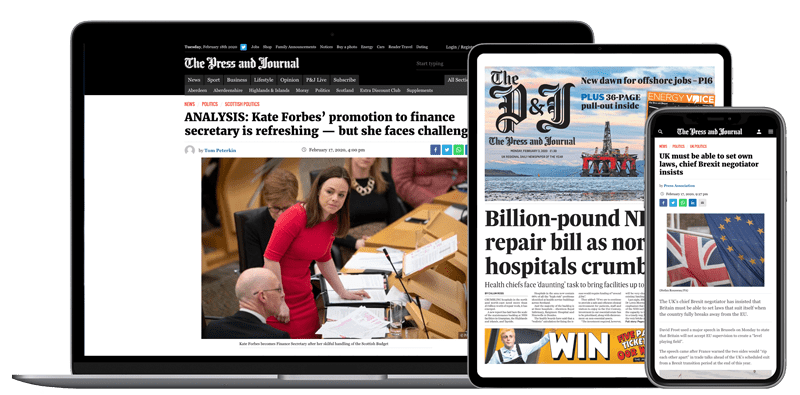 Help support quality local journalism … become a digital subscriber to The Press and Journal
For as little as £5.99 a month you can access all of our content, including Premium articles.
Subscribe