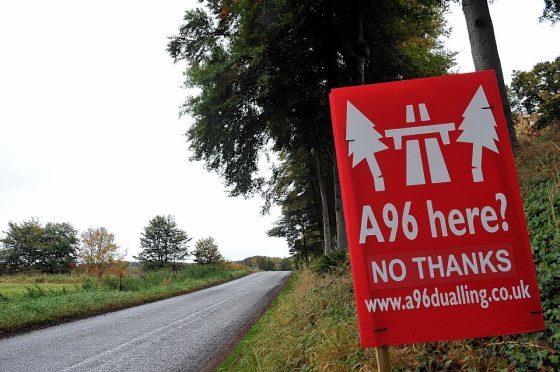 Plans to dual the A96 road from Inverness to Aberdeen have reached a milestone with design options for a key stretch through Moray ready to be revealed.
Road users will be able to glimpse blueprints for the 28-mile Hardmuir to Fochabers stretch in person during a series of exhibitions later this month.
The Scottish Government's Economy Secretary, Keith Brown, announced the latest development yesterday.
He said: "The Scottish Government has given a clear commitment to dual the A96, which will see delivery of around 88 miles of upgraded road between Inverness and Aberdeen, a huge task but one we are committed to delivering.
"As part of that work, we are taking forward the design work for the stretch between Hardmuir and Fochabers.
"Later this month, we will let people see the options we have developed for this challenging 28 mile section of the A96."
Some options have stoked controversy, with campaign groups arguing against roads bosses siting the new route near Pluscarden Abbey or away from Elgin and Forres.
Mr Brown said the upcoming public talks will offer residents the chance to tell planners what their preference is for the stretch.
The Holyrood minister added: "I would encourage anyone with an interest in this scheme to visit one of the exhibitions and give us their views.
"The feedback we receive will help inform the design and assessment work, as we look to identify a preferred route option next year."
The exhibitions will begin at Elgin Town Hall on Monday, June 19, and continue there the following day.
There will be another display at the Bellie Church Hall in Fochabers on Wednesday, June 21, and the series will conclude at Forres Town Hall the next day.
Each of the sessions will run from noon until 7pm, and the options will be available to view online from noon on June 19.
The Forres A96 Dualling Action Group claims some of the suggested routes could cripple traders' income by bypassing the region's main towns.
Group leader Brian Higgs has vowed to ensure designers are aware of the negative consequences involved in choosing some of the routes.
And monks at Pluscarden Abbey have spoken out against one option which would send traffic streaming past their peaceful retreat.