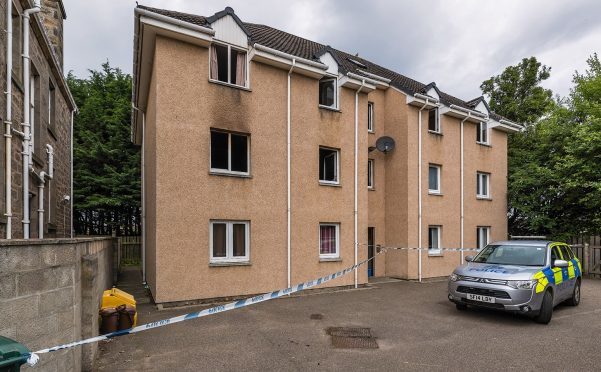 Six families have been forced from their homes after a suspicious fire in a block of flats.
Police have sealed off the Royal Court building in Forres to investigate the blaze, and a 51-year-old man is helping with inquiries.
It is understood he was detained shortly after firefighters extinguished the flames late on Monday night.
In the meantime, nearly a dozen people have been made temporarily homeless and are either being put up in emergency accommodation or staying with friends or family.
Fire investigators are due to arrive from Aberdeen to examine the Tytler Street flat this morning, and it is hoped that residents will be able to return home later this week.
Three fire crews, from Forres and Nairn, tackled the flames at the property for three hours after the alarm was raised just after 10pm.
A spokesman for the fire service refused to reveal last night whether there was any risk of the blaze spreading to the other flats.
However, he said: "There were no casualties, and a joint investigation with the police will be carried out in due course."
Yesterday, a smell of smoke lingered around the block of six flats and a police officer remained on guard throughout the day.
Black streaks have been left on the outside walls at both sides of the affected property, caused by thick plumes of smoke.
Forres councillor George Alexander said he felt for the residents caught up in the drama.
He said: "This has caused a lot of disturbance for people, through no fault of their own."
The block belongs to Aberdeen-based Langstane Housing.
The firm's housing director, Judith Sutherland, travelled to Moray yesterday to help manage the response to the fire.
She said: "In circumstances like these we liaise with the council, as the authority has a statutory duty to provide temporary accommodation under homelessness legislation.
"That applies to anyone who has been displaced because of a fire and can not gain access to their home.
"The building has been cordoned off and we have spoken with all the residents affected by that.
"They have all been provided somewhere to stay through Moray Council or from family and friends."
"All six flats were tenanted, and we believe that some may have suffered smoke damage."