Homes have been left perilously close to a cliff after tonnes of rubble came crashing down the slope in a landslide.
Water poured down the streets of Portknockie yesterday following a deluge that left surrounding roads and fields submerged.
The torrents eventually crashed over the cliff at the coastal village, causing multiple landslips along the ridge.
Last night, locals said the volume of water and size of mud slides was unprecedented.
The devastation left one house's back gate opening directly onto an abyss instead of a footpath.
Portknockie resident Eilean MacDonald said: "The roads just became rivers. I've been speaking to people in the village who have been here 60 years and they had never seen anything like it.
"There was a campervan at the bottom of the cliff near where the landslips landed. It avoided that but the fire service needed to pull it out to get past the rubble."
Her friend, Anne Barnes, added: "The water was nearly into a lot of people's houses. There wasn't a lot you could do to stop it."
Sandbags were used by locals in an attempt to keep most of the water outside their front doors.
One Church Street resident said: "I'm lucky my husband was working at home at the time, I dread to think what would have happened otherwise.
"He had to get buckets and just start emptying out as fast as he could. It's lucky the rain stopped when it did or it would have been much worse."
At least five separate landslips were caused along the Portknockie cliff following the deluge.
One shed at the foot of the slope was destroyed by the force of the mud while others were almost inaccessible due to debris.
Staff from Moray Council closed the road leading to the harbour yesterday while a clear-up operation was underway.
Andrew Norquay, who is staying in the area while working at Buckie Harbour, said: "I heard a big rumble during the night, just like thunder, it went on for several minutes.
"I just dismissed it at the time. It wasn't raining then though so I think it was probably the sound of everything falling down the cliff."
Alex Simpson, whose home overlooks the harbour, said: "We've really been very lucky. It's nothing compared to what people have had to put up with in America or India."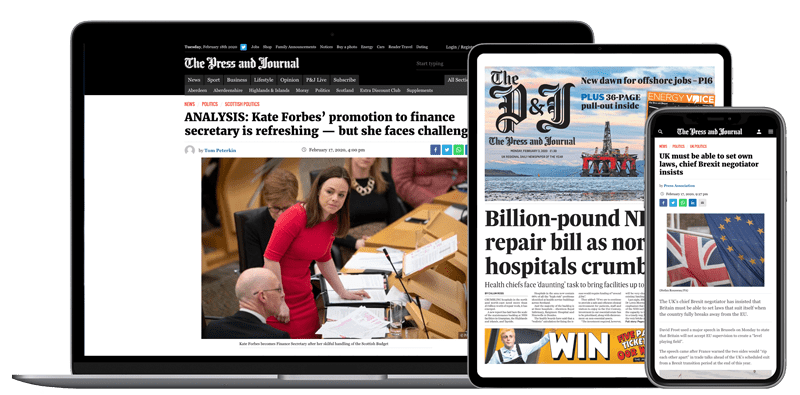 Help support quality local journalism … become a digital subscriber to The Press and Journal
For as little as £5.99 a month you can access all of our content, including Premium articles.
Subscribe