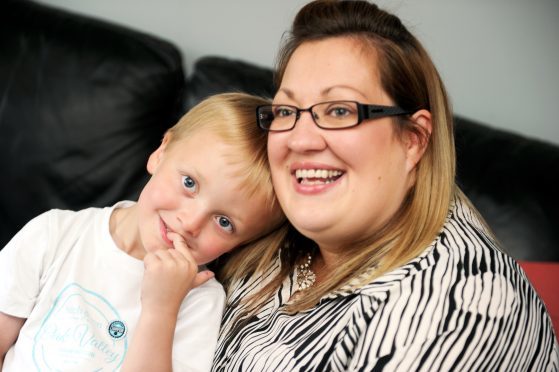 A Moray family has raised more than £4,000 to help shake off the stigma of mental health illnesses and guard against allergies.
Kelly Hale's son, Mason, suffers extreme reactions when he comes into contact with nuts, eggs, fish, oranges, avocado, soya and latex.
It means the six-year-old, from Buckie, and his parents, have to take extra precautions when planning days out.
Now the family have donated £1,000 to the Archie Foundation to help support other families who find themselves in similar situations.
Mrs Hale said: "The allergy department there is very important to us.
"When Mason was two we flew down to London for assessments and it cost a fortune. Others might not be able to afford that so we want to make sure they get the best care."
The family organised a festive fair in the town's Fisherman's Hall in the run-up to Christmas.
Hundreds of shoppers flooded through the doors for the fair to help raise the phenomenal total.
Boy with severe allergies now 'leading normal life' thanks to medical dog
The family also donated £1515 to the mental health ward at Dr Gray's Hospital and a further £500 to make up mental health packs, which include important phone numbers and activities to provide distractions.
Mrs Hale added: "When my husband David had a breakdown the staff there were fantastic. Christmas can be a difficult time for people with mental health problems.
"There's a stigma talking about it. There's not enough recognition of it so we try to talk about it."
A £100 donation was also made to the lifeboat crew in Buckie.