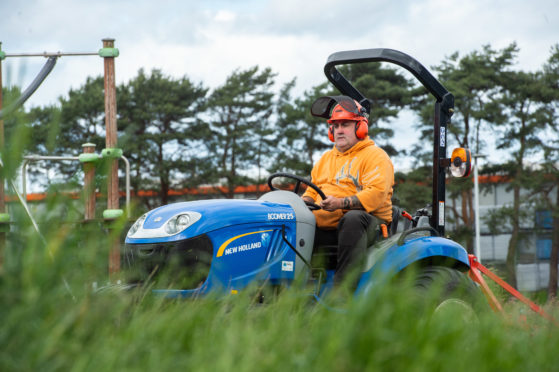 The controversial axing of Moray Council-funded grass cutting is poised to be reversed at crunch budget talks due to be held today.
Parks across the region were left unusable during the summer last year as the cash-strapped authority slashed spending.
Councillors are due to meet today to finalise the new financial plan with savings worth £2.2 million, to be topped up with up to £5 million plundered from reserves to balance the books.
But last night council leader Graham Leadbitter revealed tough decisions made 12 months ago when £10 million worth of cuts were made had put the authority's finances in a "much healthier position".
He said: "We have looked at various options and we consider that reinstating grass cutting is an affordable option that will have a positive impact on our communities.
"Moray's residents have been very supportive of us in administration in what are very challenging circumstances.
"While things have significantly improved, however, we should not be complacent.
"We will continue to work closely with those communities and other councillors to find the most positive way forward while taking a responsible approach to budgeting."
Clashes expected to take place within the chambers today include a row over council tax charges, with the SNP administration proposing a 4.84% increase while the opposition Conservative group want it capped at 3%.
Meanwhile, the Tory councillors, who led the calls for grass cutting to be reinstated, also want public toilet closures scrapped.
Financial officers have maintained warnings about further impending decisions, with a shortfall of £8.3 million predicted for 2021/22.
The Councillors Open Group (Cog), an alliance of four independent members led by former council leader George Alexander, has blamed political ideologies for making budget talks more challenging.
A group statement read: "This has been a huge challenge and it could have been made easier if all councillors had worked together instead of refusing to overlook their wider political differences.
"The Cog members recognise that our duty is to all our constituents, despite the financial restraints place upon us by the Holyrood and Westminster governments.
"We have done our utmost to agree a budget that maintains an acceptable level of service but also takes into consideration the predicted gap in the budget for 2021/22, when there will be little scope to fall back on reserves."