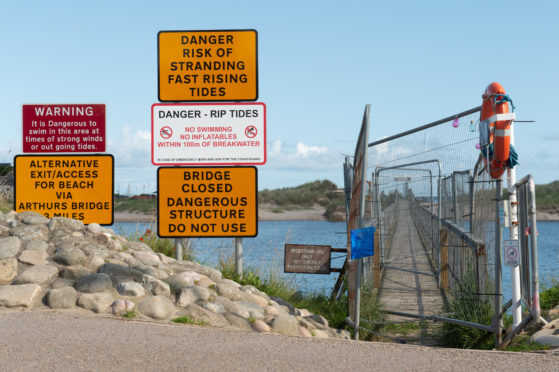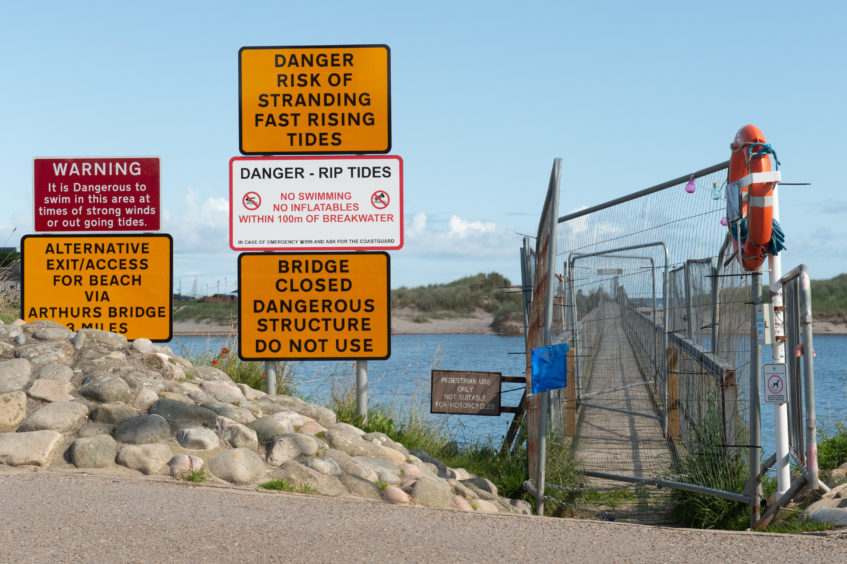 Moray Council has been forced to repeat messages that a beach footbridge remains out of bounds following reports of people jumping safety barriers.
Better weather in recent days has tempted locals to venture out to Lossiemouth's East Beach to enjoy the outdoors – despite the crossing to the sands being sealed off last year.
Reports have been made to Moray Council in recent days of people ignoring the several warning signs at the bridge about its perilous condition.
The structure, which is more than 100 years old, was closed by the authority on safety grounds in summer 2019 after it began to buckle under the weight of beach-goers during warm weather.
Council leader Graham Leadbitter said: "The footbridge to the East Beach is dangerous to use and crossing the water below should not be attempted either.
"We don't want accidents on the bridge or risk people becoming stranded by crossing the water.
"The emergency services in Moray have enough to deal with at the moment.
"People shouldn't put even more pressure on them, particularly the NHS, by taking risks that could result in injury or worse."
The Scottish Government has agreed to fund a replacement crossing to the East Beach.
Moray Council has already advertised for a contractor to design and build the structure, which is hoped to be complete for summer next year.