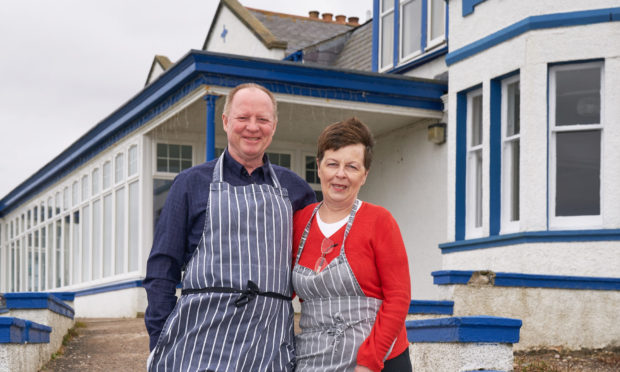 A Moray hotel owner who has served-up 3,550 meals to vulnerable members of the community during lockdown is hoping a 'drive and dine' service can help draw customers back as it eases.
Ian Watson, the owner of the Cullen Bay Hotel, is determined to attract the "vital" trade needed in July to ensure survival over the winter months.
Lockdown forced the business to close its doors in March and ever since Mr Watson and his wife Rena have been working with volunteers and community councils from Cullen and Deskford, Portknockie and Findochty to provide meals to people in need.
Now the pair are concentrating on getting their hotel back up and running, with the launch next month of what they are calling a drive and dine service key to that.
They are hoping for brisk trade to enable them to welcome back the staff who have been absent since closure.
Mr Watson said: "There are uncertain times ahead but we are really fortunate as we have a large wall overlooking fine country views and a car park from where you can look out over the sea.
"We are going to mark off bays for people to reserve.
"They can call ahead to order their food so it is almost ready when they arrive and then sit and enjoy the views from the comfort of their car."
Mr Watson added: "To survive through the winter we need to be open in July – there is no question about that – though loans, grants and the furlough scheme from Westminister have been life savers to this point.
"Our hope is that when we open up again in early July things start to take off and we begin generating some sales so we can get our staff back.
"We have a lot of space, so social distancing is not really a issue for us.
"The reason we are doing drive and dine is that we worry people early on will be reluctant to get out and about for a meal with other people around.
"We look forward to seeing people come to our service.
The Cullen Bay Hotel will also be opening its beer garden for dining and drinks.