A Dufftown pub's owners say they feel betrayed after the sale of their business to regeneration firm Truerlein failed.
In 2020, the Stuart Arms Bar and Restaurant's Peter and Anne Stuart came to an agreement to sell the business and building to the firm for around £320,000.
It is understood the pub was going to be refurbished as part of regeneration plans to transform the Speyside town.
Around three years on, the sale hasn't happened.
The couple now say they will have to sell their family home to pay off a £50,000 loan they took out to keep their Conval Street business going during the winter.
They don't blame Truerlein for the loan but are upset about the unfulfilled promises.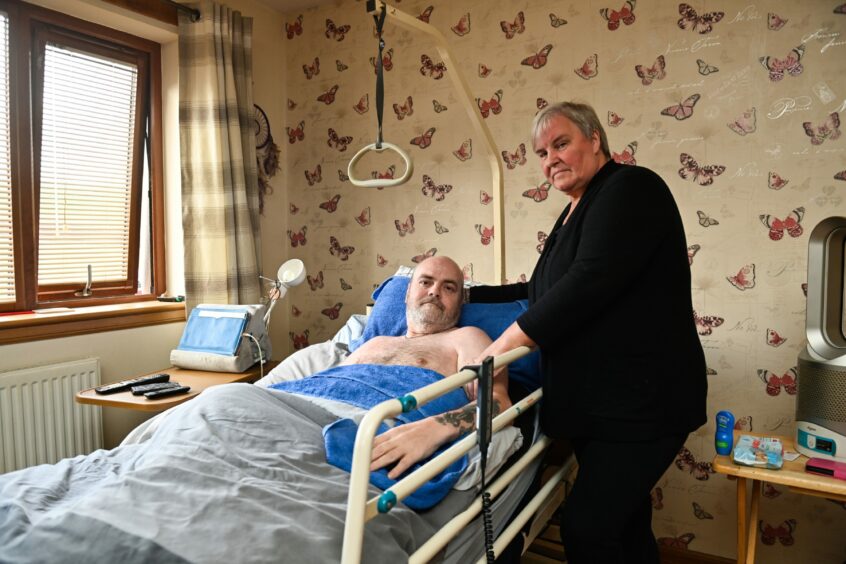 The company claims that the contract expired in June 2021.
They say they've been facing a campaign of harassment, abuse, and disruption that's harmed progress on projects like the Stuart Arms.
Last year, Truerlein came under fire as their plans failed to materialise.
'We put our trust in them and they broke it'
Mrs Stuart explained: "In February 2020, I decided to close the pub as Peter wasn't well and stress was too much.
"They explained how they were going to set up a company to regenerate Dufftown and buy businesses up for sale.
"In the April, we received the offer, which we were delighted about.
"Since then, they kept saying it was still going ahead and we had nothing to worry about as we were under contract.
"However the sale has never been completed.
"We feel betrayed by people we thought were our friends."
At the moment, Peter is bed-bound at home due to sepsis.
He said: "I was diagnosed about two years ago.
"This year, I have cut out of all the medicine except morphine which is for pain.
"It keeps me going and I'm basically on my last legs.
"The stress from the pub hasn't helped at all.
"Earlier this year, Anne had blood clots caused by stress."
'Home will need to be sold'
Anne added it is just a matter of time until they will have to sell their home.
She said: "I had a £50,000 loan on the bar when they offered to buy and I thought that would solve all our problems.
"We will need to sell the house to cover the debt.
"We don't blame Truerlein for the loan as it was needed to keep the business alive through the winter but we are annoyed with the promises.
"I held out as they gave the best offer and now we are going to lose everything on a promise.
"Over the years, I sold all the kitchen stuff to cover some bills, so the pub is empty.
"I would have had more respect for them if they just say sorry it failed."
'Civil and criminal investigations under way'
A Truerlein spokeswoman said: "The loan mentioned was taken out, and the business had ceased trading due to lack of funds, well before Truerlein first contacted the Stuarts.
"We regret that the Stuart Arms has been unable to attract alternative interest in the two years that it has been back on the market.
"However, since we first publicly announced our proposed plans for Dufftown, our company and individual directors have been targeted in a campaign of harassment, abuse and disruption which has significantly hampered our ability to progress projects such as the Stuart Arms according to our original timeline.
"Civil and criminal investigations are currently under way and we will share a more complete picture once these have been concluded."
The Stuart Arms remains up for sale on the open market for around £225,000.
Read more: