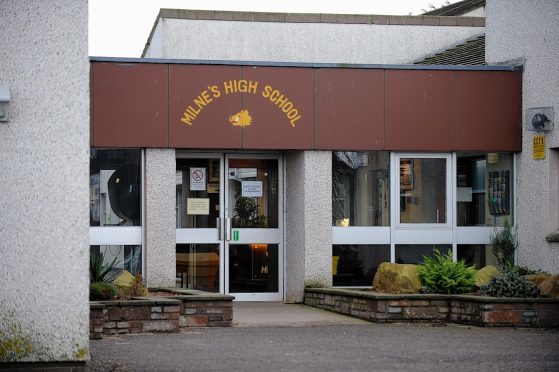 A boy has been charged after taking a knife into a secondary school.
The incident at Milne's High in Moray was the fourth in the space of just a few weeks involving weapons being discovered at north and north-east academies.
And it happened just days before a youth was convicted of killing a fellow pupil at Cults Academy in Aberdeen.
Sixteen-year-old Bailey Gwynne died after being stabbed in the heart during a fight over a biscuit.
The teenager convicted of his culpable homicide will be sentenced next month.
The pupil who took what is believed to be a kitchen knife into Milne's High at Fochabers has been suspended.
But parents of other children at the school have voiced concerns they were not informed about the incident until more than a week after it happened.
They are now worried about the safety of their youngsters.
Yesterday, they accused senior staff at the 437-pupil secondary of taking a "very laid-back attitude" to dealing with the incident.
One concerned parent said it was dealt with swiftly by the school – but parents were not told until they received an e-mail from head teacher Trish Cameron eight days later.
The mother said: "To say we were concerned is an understatement, especially after the incident at Cults Academy.
"I feel that Milne's has had a very laid-back attitude in dealing with this incident.
"While I'm not calling for security guards and metal detectors to be brought in, I do think that their way of handling it needs to be more proactive."
The Milne's High School mother said parents simply wanted reassurances that their children were safe in school.
She said: "While not wanting to be seen to be carrying out a witch-hunt against this pupil, I am a concerned parent, and as such I would like to be reassured that my children are safe in school."
The e-mail from the head teacher said she wanted to make parents aware of "an incident on Thursday, March 3 involving a pupil who brought a weapon to school".
She wrote: "This matter was dealt with in an appropriate and timely manner after a responsible pupil reported it to staff and in accordance with local authority procedures and guidance.
"I can reassure you that our main priority was the safety of our young people and that no-one was harmed.
"As was the case with all other secondary schools in Moray, pupils in Milne's High School were made aware of the implications of carrying weapons through a series of assemblies conducted by Police Scotland late last year.
"We will continue to remind our young people of these and of the serious consequences for them should they be found on school premises in possession of such weapons."
Fochabers Lhanbryde councillor Douglas Ross said police and the education authority had gone to great lengths to stress the importance of pupils not carrying weapons into school.
Councillor Ross said: "We have seen tragic incidents elsewhere in the north of Scotland, where taking a weapon into school can end in the most horrific way, and I hope that all pupils desist from taking weapons into school when there is absolutely no need for them to do so.
"It is a worrying incident for fellow pupils, staff and parents and carers."
A Moray Council spokesman said: "We confirm that a pupil has been excluded after he was found to be in possession of a knife in the school.
"Police Scotland are investigating the incident."
And a police spokeswoman said: "Following an incident on Thursday, March 3, Police Scotland can confirm that a pupil has been charged."
last week the Press and Journal revealed a teenage boy had been charged by police after taking a knife into Fraserburgh Academy.
A 10-year-old boy was also caught with a knife at a primary school in the Fraserburgh area. and a boy was found with a knife at a primary school in Aberdeen.