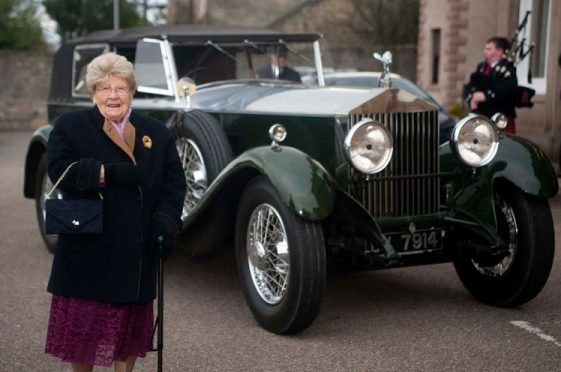 Ben Hendry
A north-east pensioner celebrated her 100th birthday surrounded by five generations of her family, friends and flowers sent from far and wide.
Janet Shand was born in Kellas on April, 5, 1916, and since then has become a well-known and cherished part of the Moray community.
And on Saturday, she celebrated the milestone with a party at the Royal Hotel in Elgin.
Arriving in style in a vintage 1920s Rolls Royce – organised as a surprise by her loved ones – she was then piped in to the building.
She chalked up her long life to hard work and "the occasional drop of sherry".
The area's newest centenarian was born Janet Grant – and was the youngest of 10 children.
With six older brothers and three older sisters, growing up was a struggle at times – and she had to go across a mile of moorland to reach school in Dallas.
Her family say her upbringing bestowed upon Mrs Shand a determined attitude which she carries with her to this day.
She left school at 14, and ventured to London two years later to enter a career in domestic service.
She returned to Moray as Britain teetered on the brink of World War II, and met and married her husband Jimmy Shand in 1939.
Mr Shand, who worked as an agricultural contractor, was called up to the army when war broke out and served with the Seaforth Highlanders division.
When he returned to Moray he spent the post-war years re-establishing his business – with the assistance of Mrs Shand.
The pair thereafter started a family, and first son James was born in 1951 followed by Robert in 1955.
Tragically, James was killed in a car accident when he was only 18.
When Mr Shand died in 1968, Mrs Shand ran the business herself until 1970 then sold it.
She moved from Orton, where the firm was based, to Elgin's Spynie Place, where she still resides today.
Surrounded by flowers and cards on her special day, Mrs Shand maintained that she "didn't see what the fuss was about".
Last night, son Robert said: "Saturday was absolutely super, she thoroughly enjoyed her entrance into the Royal Hotel.
"She had a lovely meal with friends and family and then there was musical entertainment."
The celebrations will continue this week for the "fiercely independent" 100-year-old, when she visits her childhood home along with her two nieces, one of whom is in her 80s.