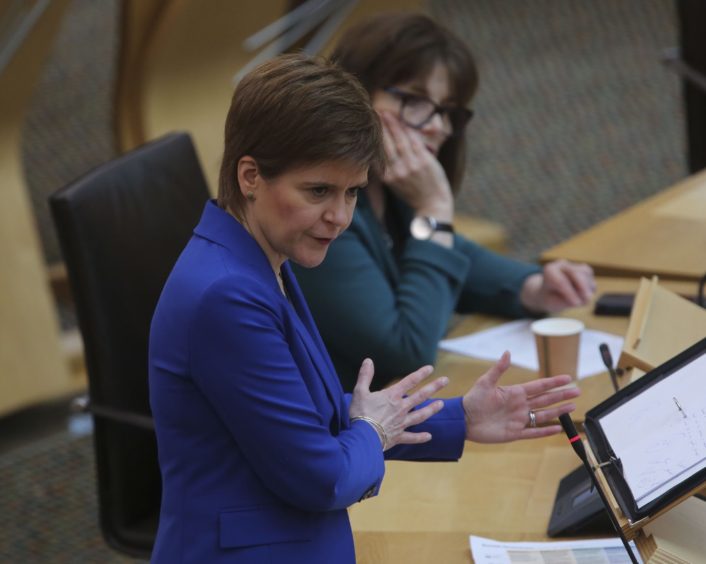 A four-day working week and pupils attending school on a part-time basis will become the "new normal" as Scotland comes out of the coronavirus lockdown.
A radical vision of the future was outlined by Nicola Sturgeon as she unveiled the Scottish Government plan to ease anti-Covid-19 restrictions over the coming weeks and months.
The process will start with new guidance allowing people to meet friends from one other household in the outdoors from next week.
Games of golf, tennis and bowls will be permitted as well as going fishing, canoeing, outdoor swimming and hiking – provided people don't stray from their local areas. Agriculture and forestry businesses will be able to restart and the construction industry can start preparing building sites for taking up tools again.
But schools will not reopen until August 11 when pupils will have a "blended" education model, which involves "part-time" lessons in conventional classrooms and the rest made up by home learning.
Ms Sturgeon said £30 million will be invested in laptops for disadvantaged children to enable them to study online at home.
Things like a four-day week now are no longer things we should just be talking about, these are things we should be encouraging employers to look at embracing."

Nicola Sturgeon
The first minister acknowledged that the changes to schooling created a "very difficult balancing act" for parents who needed to work and care for their children when they were at home.
"That is one reason, not the only reason, why we have to look at different working patterns. Things like a four-day week now are no longer things we should just be talking about, these are things we should be encouraging employers to look at embracing," Ms Sturgeon said.
Details of how restrictions will be lifted were contained in the Scottish Government's eagerly awaited document Scotland's Route Map Through and Out of the Crisis.
In a statement to Holyrood, Ms Sturgeon said loosening of the measures was divided into four phases, which will be reviewed every three weeks. But she warned that the proposals were "not set in stone" and were subject to change depending on how successful efforts were to suppress the virus. Under the quickest possible scenario, Scotland would enter the final phase at the end of July beginning of August.
But moving from one phase to the next will be subject to keeping the R-number down as well as meeting stringent criteria including WHO tests – suggesting the process is likely to take longer.
Moving to a test, trace and isolate strategy will also be a key component. Tory leader Jackson Carlaw warned that it would only work if there were enough tests.
If all goes well, the first phase will come into force from the first review date, on May 28 and will focus on easing restrictions outdoors.
Sunbathing, golfing and meeting with one other household
Ms Sturgeon warned the new guidance may not be introduced immediately on May 28, but said from that date it is proposed that people will be able to sunbathe in parks and meet up with others in a restricted form.
"You will be able to meet people from one other household, though initially in small numbers, while you are outside. This is a change which we hope will benefit everyone, but particularly those without gardens, and people who live on their own," Ms Sturgeon said.
Members of two households should stay more than two metres apart during meetings, which can take place in gardens – but not indoors. Gatherings other than this will still be banned for the time being.
People will be allowed to travel, preferably by walking or cycling, to recreation spaces although they should stay close to home.
Waste and recycling services will resume, as will outdoor businesses like agriculture and forestry. A phased approach will be taken with construction starting with preparing sites, moving into a "soft start" as building activity increases.
The move was welcomed by Aberdeen-based Stewart Milne Homes, which said it would work with the Scottish Government to deliver housing projects.
Take-away and drive-through food outlets will be allowed to reopen as will garden centres. Garden centre cafes will remain closed unless they operate as a take-away.
Indoor cafes, restaurants and pubs will remain closed during the first phase with beer gardens reopening in the second. Only by the third phase will pubs and restaurants reopen fully.
Remote working will remain the default position for the time being, although indoor offices will be back in action during phase three.
In phase one, Children's Hearings will restart with physical distancing and social workers will have more contact with the vulnerable. Some aspects of the Criminal Justice System will also resume.
Cancelled NHS services, which have been closed to free up hospital capacity, will be "carefully and gradually" restarted.
Professional sport in some form will take place in the second phase, but mass gatherings will continue to be outlawed until phase four. The limit on the number of people attending funerals will remain in place until phase two.
Schools to reopen in August but in a new format
Ms Sturgeon thanked teachers, parents and children for their patience during the crisis as she announced teachers will return to work next month to prepare classrooms for a "different model" of learning.
"From 11 August, all schools will reopen," Ms Sturgeon said. "However, to allow appropriate physical distancing, children will return to a blended model of part-time in-school and part-time at-home learning.
There will be more childminding over the summer, as well as transition arrangements for children starting primary school and those moving to secondaries. School estates will be expanded to enable social distancing.
The EIS teachers' union described the blended approach as the "biggest curriculum challenge" of the century.
Universities and colleges are to have a phased return next term, combining remote learning and limited campus teaching.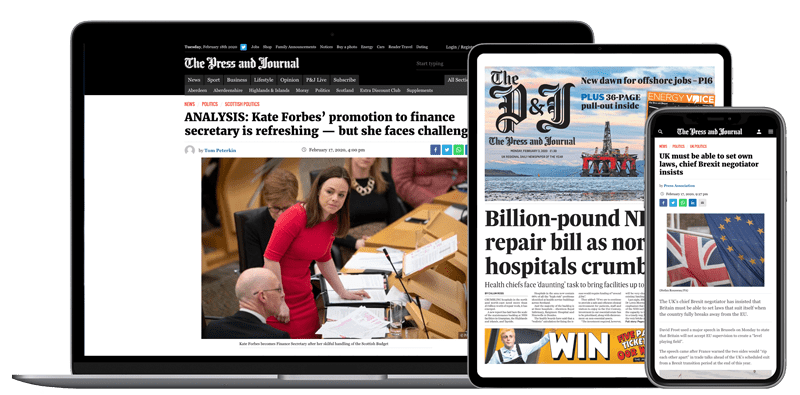 Help support quality local journalism … become a digital subscriber to The Press and Journal
For as little as £5.99 a month you can access all of our content, including Premium articles.
Subscribe