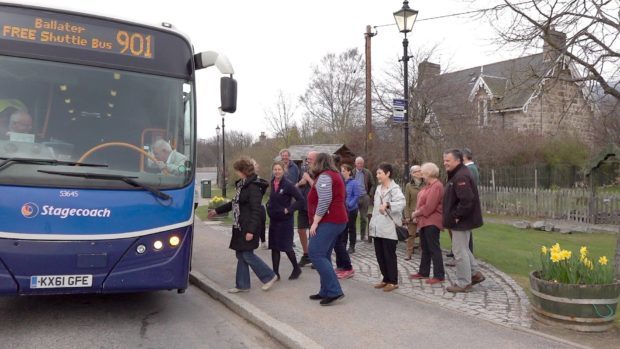 A Sunday bus service between two Deeside communities has been granted a stay of execution after thousands of people protested against plans to axe the service.
Earlier this year, Aberdeenshire Council announced it would slash 27 subsidised routes from the timetables as part of efforts to save millions of pounds.
Included in the proposals was the end of all Sunday trips on the Stagecoach Bluebird 201 route between Ballater and Braemar.
The move disappointed thousands of people, who signed a petition calling for a rethink.
Braemar residents argued that use of the service will increase as new attractions open up in village, including the Fife Arms Hotel and the public opening of the new Highland Games Centre.
And in April, the council announced it would run a special shuttle service in its place during the summer, ahead of a review next month.
After the maiden voyage of the new bus four months ago, locals launched a "use it or lose it" campaign to show how badly needed it is.
In June, there was an average of five passengers per journey – a slight increase in performance from the same month last year where there was an average of around four-and-a-half passengers per Sunday trip.
---
>> Keep up to date with the latest news with The P&J newsletter
---
And now Aberdeenshire Council has agreed to continue the service in its current form until March, in order to carry out a consultation and assess its performance.
In a report, the authority's director of infrastructure services, Stephen Archer, said: "This will allow the proposed community survey to be undertaken in a more considered manner, provide the opportunity to gather patronage data covering the full summer period and permit further review of the seven-day service.
"Given the short notice of the reinstatement of the Sunday service, regrettably it was not possible to initially publicise it in the most desirable manner – and therefore extending the service will also permit the review to be completed using more robust patronage figures."
Aboyne, Upper Deeside and Donside councillor Geva Blackett said: "I'm encouraged that they're not cutting us off any time soon, I'm happy there's going to be a proper consultation and it's going to remain until March.
"And I'm delighted that people are getting the message now and actually using the bus."