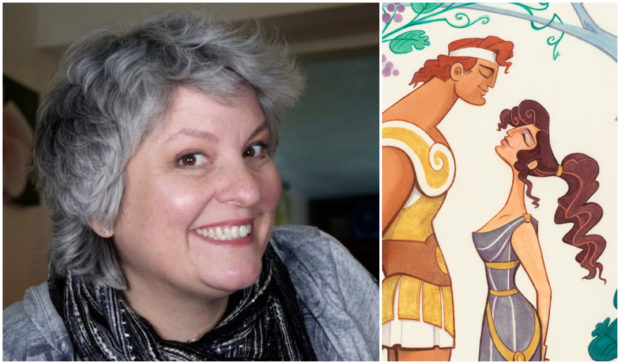 Without the expert involvement of Sue Nichols Maciorowski, classic Disney animations including Hercules, Beauty And The Beast and The Lion King could have looked very different.
The artist helped the global entertainment giant cement its signature style during its 1990s "renaissance".
Highly-regarded throughout the industry, she created beloved characters including Jafar from Aladdin and Frollo in The Hunchback Of Notre Dame.
From eight-years-old, Nichols had her heart set on becoming an animator with Disney.
Growing up in Massachusetts, she could be found drawing characters at every opportunity, including on pavements, walls and in competitions.
She was well-known in high school for her love of art, which continued into her time at Californa Institute of Arts, where she graduated with a visual animation degree in 1987.
At this time, she was part of an Emmy Award-winning team which worked on The Muppet Babies with master puppeteer Jim Henson and also gained experience on My Little Pony.
We're deeply saddened by the passing of Sue Nichols Maciorowski, an influential visual development and story artist who helped define the design and narratives of the films of the Disney Renaissance and beyond. pic.twitter.com/eiHb2GwOn4

— Disney Animation (@DisneyAnimation) September 3, 2020
Soon after, she achieved her dream of working with Disney and quickly found herself at "the heart" of many of its productions.
Nichols earned her first storyboarding credit on 1992's Aladdin, and worked on every subsequent 2D animation the film studio produced that decade.
For Hercules, which was released five years later, she developed a style guide that "defined" Greek design across effects, colour styling and animation.
Thank you Sue Nichols Maciorowski your vision and art will forevermore beloved and adored. Rest in Power. ❤️ pic.twitter.com/EVRJqN7AcB

— Aylin🥀 (@AylinDodogan) September 3, 2020
As a result Disney bosses created a new job title – production stylist – just for her, as "no-one had done a similar role before".
Disney animator Eric Goldberg said: "She will be sadly missed by those of us who had the good fortune to work with her, but her influence on those films will be there forever."
Nichols created similar style guides for Lilo & Stitch and Atlantis: The Lost Empire, but left her position in 2002 to move back home to Massachusetts.
As a freelancer, she continued to work with Disney on animated features including The Princess And The Frog and Moana.
She also helped design costumes for the live-action film Enchanted and contributed to the early development of Pixar's Brave.
In her free time she designed the sets for her local church's annual productions, and encouraged Bible Camp youngsters to help her decorate its hall.
Nichols wrote and illustrated her own books, and would often provide advice to aspiring animators hoping to make it in the industry, as she did.
She was diagnosed with breast cancer in 2014 and spent the last six years tracking her journey with an online blog.
She died aged 55 on Tuesday, September 1.
A tribute from her family read: "Sue may be gone but her legacy remains with us in the credits of many Disney films and publications she contributed to as an accomplished artist.
"This big, loving family has called her wife, mother, daughter, aunt, niece, and friend and will hold her smile and caring ways with them always."
She is survived by her husband, Chester Maciorowski, children Stephanie and Jonathan, both parents, three siblings and eight nieces and nephews.