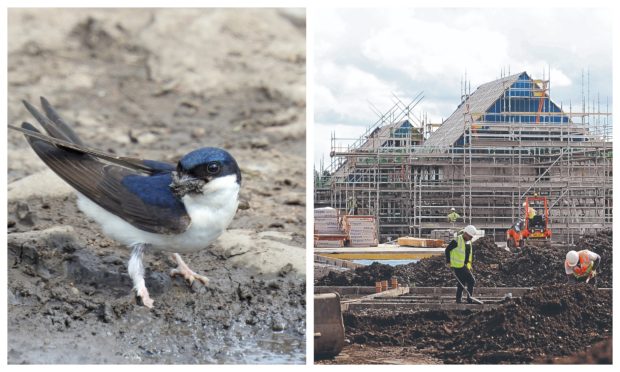 Hi, and welcome to the House Martin Challenge.
Today, you're going to start building your own house.
No, I don't mean buying a plot, hiring an architect and then watching surly tradesfolk constructing your grand design while you stand around making them mugs of tea.
I mean actually building it yourself. You're going to design it, gather your own materials and then construct it brick by brick with no tools other than the ones God gave you.
Ha ha! Yeah I know it's difficult. That's why it's called a challenge.
I tell you what, to make it a wee bit easier why don't I allow you an extra pair of hands?
A problem shared is a problem halved, after all, but I'm afraid you can't pick someone on account of their skill-set or their prowess with a protractor.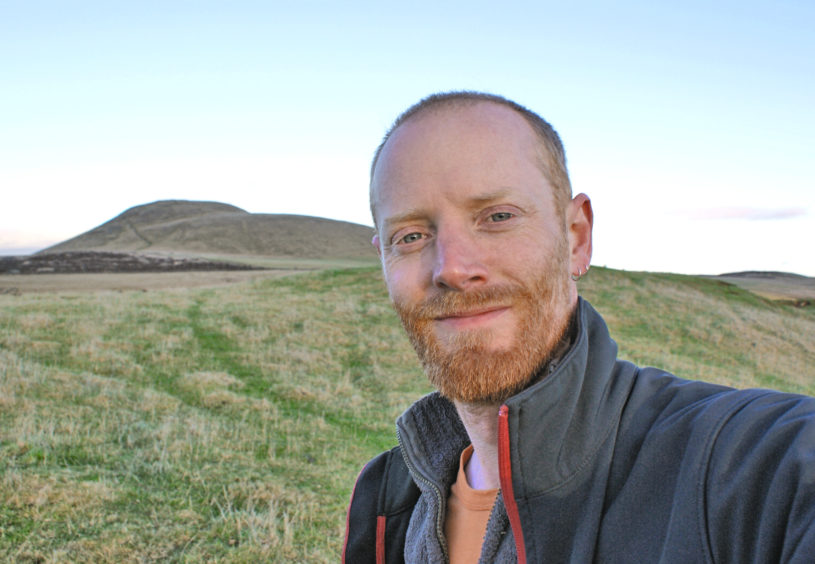 The extra person has to be your better half. Your significant other. Sound fair?
OK, the house itself will be built of bricks.
No, you can't have the bricks delivered. You'll need to make every single brick yourselves.
Out of what? Out of mud of course.
There should be plenty of it on the ground, but you don't want to be foraging more than 300m in any direction, so think very carefully about a suitable spot BEFORE you start building.
A clay-type mud is best, as it's easier to shape and will set hard once it's dry.
What's that, you say? We're emerging from the driest spring on record and there's no mud anywhere?
Aww, that's sad, but it's not my problem. Just mix it with some saliva or something.
Don't pull that face. I'm not asking you to build a country mansion with a home cinema and hot tub.
It needn't be massive. It just needs to be a shelter, big enough to fit the two of you and…erm…the quintuplets you're about to have.
Does that make sense?
Yeah, I know kids grow quickly, but bear in mind these ones will be as big as you after just three weeks, so make sure you've got some extra leg room.
OK, you're almost ready.
You're going to…construct it brick by brick with no tools other than the ones God gave you
Given the considerable challenges you're facing I'm kind of reluctant to mention this, but you know how I said earlier you could have an extra pair of hands?
Well, I might have exaggerated slightly, because neither of you can use your hands at any point.
Nope, 'fraid not. You can only use your mouths.
Yes of course I'm serious.
Oh it's easy, you just scoop the mud up with your mouth, mix it with saliva, spit it out as a spherical brick in exactly the right place and then rapidly vibrate your head in order to bind the mud bricks together.
How rapidly? Oh I dunno, until your head is just a blur.
You'll probably need about 1,500 return trips to make enough bricks, so best keep some aspirin handy, eh?
Right, there are just two more tiny things to mention.
First, you can't build the house from the ground upwards, rather it needs to suspend upside down from an overhanging cliff face.
How high? Oh, let's say 15m off the ground.
Nope, no ladders.
Just make sure you choose a grippy surface to hang your house from, otherwise you might find that you and your family fall to the ground in the middle of a summer deluge.
It happens, especially as your kids get bigger and heavier.
Second, I'm afraid you're against the clock on this one, so you'll need to be finished in just 10 days please. Is that all clear? Grand, off you go!
Hey! Not that way! Don't go looking for mud just yet. First you need to go to Africa.
Yes, of course I'm serious.
Whereabouts in Africa? Well, I can't tell you the exact location because, truthfully, nobody actually knows for sure.
All I know is you need to cross the Sahara Desert.
Yes, I know it's hot. And yes, I know it's vast. But that's the challenge you've accepted.
Satnav? No, you can't use satnav. Nope, not even a map and compass. Look, you'll just have to rely on your basic intuition, okay?
Ach, don't worry. I know you've never been to this mystery location south of the Sahara before but I'm sure you'll know it when you see it.
Just remember you can't use any vehicles either.
Not planes, not cars, not even a skateboard. You'll need to rely on your own steam. Make sense? Good.
OK, I think you'd best be off. The Sahara is actually getting bigger every year, so every second counts.
Just mind you're back here next spring, at this exact spot, to build your house.
No, you can't take a packed lunch. You'll just need to find your own food and water along the way, OK?
Aww, don't cry. I know it's a lot to take in, but look on the bright side.
With all that travelling you'll at least have plenty of time to ponder how you're going to build a house for seven people using only your mouth.
Ben Dolphin is an outdoors enthusiast, countryside ranger and former president of Ramblers Scotland