With the Scottish Government doing hee-haw about independence for so many years, it seems parts of Scotland have now had enough of waiting and may be about to go it alone.
It began with Orkney council. It has had enough. It believes the people who live on its cluster of islands feel they are being ignored and not getting enough support from being part of the UK.
So, the council could soon be on the hunt for another nation to take Orkney under its wing, to be its protector and to generally be nice to Orcadians. Or, at least nicer than Westminster – and maybe even Holyrood. It's a bit of a challenge, but some other nation up somewhere may be up for expanding its borders.
The inevitable question, of course, is: if Norway agrees to take Orkney, will Shetland also go and cuddle up to another country? And, if so, would it be Norway or Sweden or Denmark?
There is, apparently, still nothing in international law to say that it has to be a nearby country. They could link up with the Icelandic republic or rekindle the Auld Alliance and become friendly forever with France. Oui?
Maybe not, if the Gallic influence would make Shetlanders as prone to rioting as we have seen in France in recent days. Nobody wants fires in Fetlar, uncouth youth in Unst or looting in Lerwick.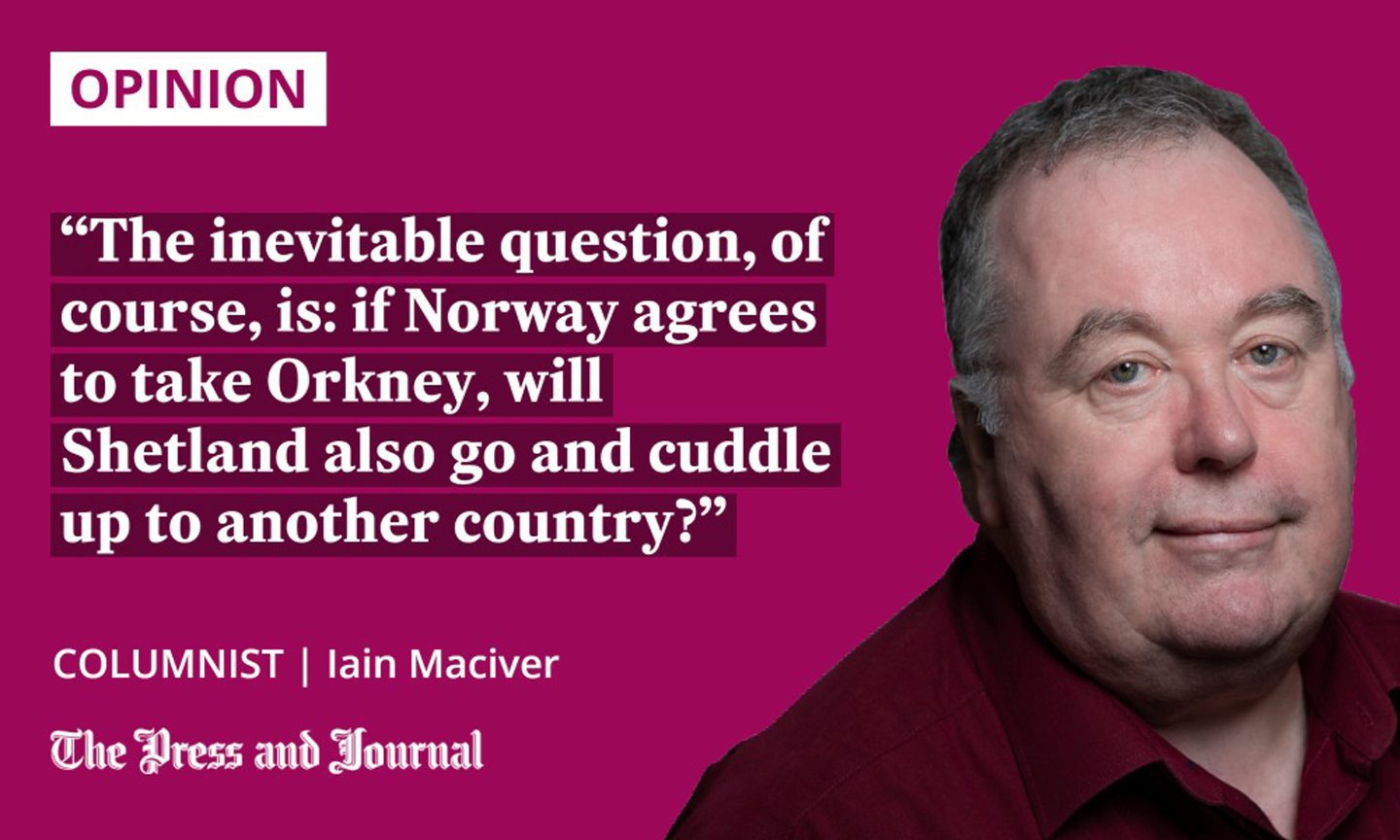 The burning question here is whether the Outer Hebrides would follow. Who would take us? I think Ireland, just for the Guinness. We could then send them Harris Gin. Hey, that was quick. I've done a trade deal already.
What would independence be like? Let's ask a nation that achieved it. How about… America? They became free from the choke of Westminster in 1776. We tend to forget that because the full details are mostly not taught properly in the UK, although that is now being put right in some Scottish schools.
America still trumpets the benefits of how they so bitterly fought back then. Just the other week, a US commentator said ruefully: "We became free. The United States is a free country where every man can do exactly as his wife pleases." Not the best example.
Get ready for a legal tussle
What should the process be called? If Britain's exit from Europe was Brexit, what should we call these changes? One publication is already dubbing it Orkney's possible Orkxit? Yuck, try pronouncing that with a few drams on board.
There could then be a Shexit, and our own Hebexit. Who will be nexit? I mean next. We had better decide soon, or we could be in a right fixit.
Tourism would be the money-spinner here. Taxing the campervan owners who come and try to park at Luskentyre beach would take in an island fortune.
It'll mean a right legal tussle. High Courts, Appeal Courts, Supreme Courts and the European Court of Human Rights. Oh, wait, we've now been kicked out of that jurisdiction.
Lawyers will be busy writing up complex treaties and other documents. Did you know that lawyers don't use commas in formal documents? I asked one lawyer and gastronome I know if freedom from commas was something she liked. She replied: "My three favourite things are eating my family and not using commas."
Can we invent a new parliament?
Scots' favourite things are doing anything and at any age. We have a long and proud history of inventing things and, now that everything useful has been invented, mostly by us, we are kicking above our weight in fields like entertainment and culture.
Adopted Scot JK Rowling has not only produced fine works of fiction with Harry Potter, but the benefits are enduring. You cannot get near the Glenfinnan Viaduct at this time of year for youngsters with broomsticks recreating scenes in their minds.
Ken Bruce, after being removed from Radio Two by the BBC, is also drawing huge numbers of listeners to his independent station and taking his PopMaster show to the More4 TV channel.
It is not as snappy as Never Mind the Buzzcocks, but the format is very watchable. He's a veteran and it would be unkind to dwell on his age but, should he need it, he could pick up his pension a while back – even after the government increasing the age as far as it dares.
We must dare to toughen up. For instance, what do we do with people who rely on government handouts and refuse to do the work they are paid to do? Kick them out of parliament, I say. We may have to appoint our own parliament – like they do on the Isle of Man.
When I was young, my father always told me anyone could become prime minister. Now that I'm an adult, I believe it – and it gives me nightmares.
---
Iain Maciver is a former broadcaster and news reporter from the Outer Hebrides