Negative reaction to prime Minister Rishi Sunak's announcement this week of an intention to alter the UK's net zero regulations and delay green initiatives (like a ban on the sale of new diesel and petrol vehicles) suggests the move was perhaps not the trump-card moment he envisioned.
Business leaders have called it a "historic mistake", and an atmosphere of confusion and uncertainty has settled quickly around previously settled plans, understandably spooking investors.
Those of us in the north and north-east of Scotland know all too well the feeling of being strung along by politicians who make big promises about the future of energy and industry before going silent or changing tack.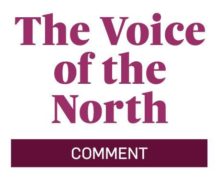 In his speech on Wednesday, the PM began by saying he is aware that "people in our country are frustrated with our politics", that "they feel that much gets promised, but not enough is delivered", and that "they dislike Westminster game playing, the short termism, and the lack of accountability."
The majority of people living in this country are acutely aware of the pressing issue of climate change: they can see its effects both globally and from their own windows, in the form of devastating, extreme storms and soaring temperatures.
Scientists have laid out the facts – that our children and grandchildren could find themselves marooned on an uninhabitable planet if we do not make adequate changes – and most have responded by agreeing we must act responsibly and unselfishly for the good of future generations. That includes both individuals and businesses, in all sectors.
Governments, as representatives of the people and their best interests, should be leading the charge with eco-friendly policies that benefit both our economy and our environment.
Trading future safety for a few votes is a cynical tactic
If he wants to talk about "Westminster game playing", "short termism" and "lack of accountability", perhaps Mr Sunak should start with his choice to trade sensible environmental policy and economic stability for the hope of a few more votes at the next general election. While many have seen straight through this cynical tactic, the fact remains that our prime minister has opted to use the world-changing issue of climate change as a political football.
His announcement and its language pit people against each other at a time when working together for the greater good has never been more crucial.
The UK, and Scotland in particular, can and should be at the forefront of the green energy revolution; we have the skills and knowledge required, right here. Politicians must commit to talking less and listening more, allowing experts to contribute towards a plan that is financially sound and future-proof.
---
The Voice of the North is The Press & Journal's editorial stance on what we think are the most important issues of the week