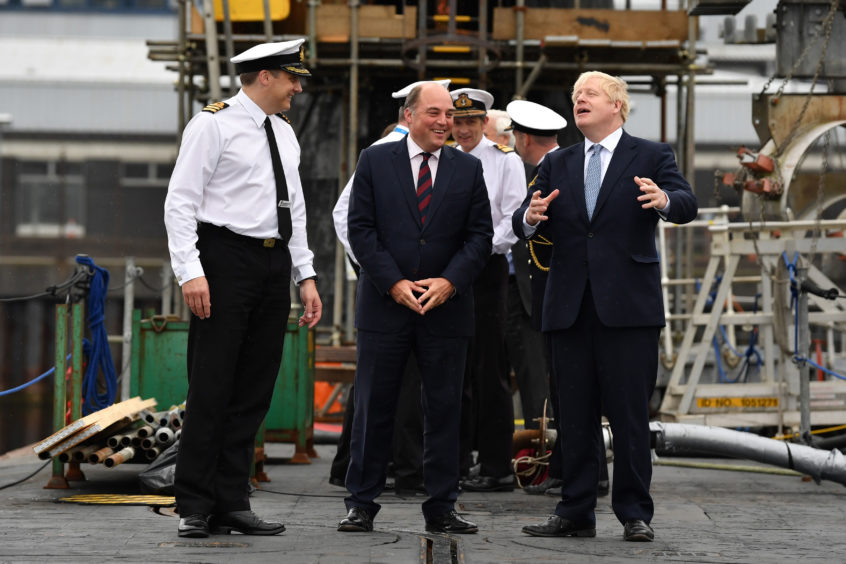 Boris Johnson vowed that access to UK fishing waters will not be used as a Brexit bargaining chip when he visited Scotland for the first time as prime minister yesterday.
Mr Johnson also promised that the UK would meet the crucial December 2020 deadline for coming out of the controversial Common Fisheries Policy (CFP).
And the prime minister attacked the SNP's stance on fishing, claiming it was "bizarre" that Nicola Sturgeon's party wanted to hand back control to Brussels.
Mr Johnson's pledges were welcomed by fishing industry representatives, who claimed leaving the CFP would generate millions of pounds and create thousands of jobs.
The new prime minister was questioned about the topic while visiting HM Naval Base Clyde at Faslane, home of the UK's nuclear deterrent.
Mr Johnson was asked if he could "guarantee" the UK would be out of the CFP by the December 2020 deadline and that access to UK fishing waters would not be linked to future trade deals with the EU.
"I can," he said.
Fears that fishing access could be dragged into wider trade talks were raised last year when the political declaration outlining Theresa May's deal was published.
Some Tories were concerned that sovereignty over waters could be sacrificed for a trade deal while the SNP accused Mrs May of selling out fishermen.
Mr Johnson sought to dispel similar fears this time around, and underlined his commitment to meet next year's deadline for departure from the CFP, which is deeply unpopular with Scottish fishermen who want the UK to negotiate access and quota rights as an independent coastal state.
Mr Johnson's words were welcomed by Bertie Armstrong of the Scottish Fishermen's Association.
Mr Armstrong said: "We have been looking for a straight and direct answer and that's exactly what we have got.
"Scottish fishing's sea of opportunity lies on the other side of Brexit.
"The Scottish Government commissioned a study in the middle of 2018 which came to the conclusion that the sea of opportunity represented £500 million per year and 5,000 full time equivalent jobs, so we absolutely embrace these guarantees."
Mr Johnson went on to criticise the "paradox" of the SNP's position on Brexit and fishing.
"They are committed to handing back control of Scotland's fantastic fisheries to Brussels, just after Scotland has taken back control of its fish and is able to galvanise and to turbo-charge the Scottish fishing industry," the prime minister said.
"I do think that is a most bizarre manifesto, most bizarre policy and not one that I urge the SNP to continue with. I look forward to hearing news of a U-turn on that policy because it just does not make sense for Scotland."
SNP Rural Affairs spokeswoman, Deidre Brock, said: "No-one can trust what the Tories say on fishing. They described the industry as expendable when the UK entered the EU and have already broken promises they made in the aftermath of the EU referendum."