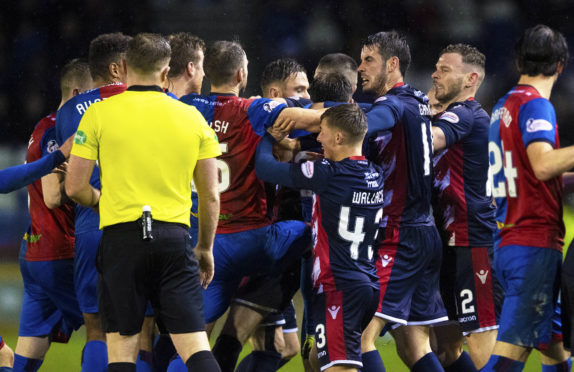 Tuesday was a game that had everything and signified the Highland derby finding its edge again.
Familiarity this season has not quite bred contempt but has allowed individuals to audition for roles of pantomime villains. See Marcus Fraser keeping the ball from Coll Donaldson in the shoot-out, Shaun Rooney sprinting from the bench to celebrate in front of the away fans, Kenny van der Weg lapping up derision from the crowd after his altercation with McKay. It adds spice to a dish that needed extra seasoning.
That it wasn't available to a nationally-televised audience – owing to two goal-less Champions League ties enforcing a blackout – is a huge disappointment.
Jordan White was a man transformed in the second period. From having high balls launched to him in the first half and County fending them off easily, in the second period he became unplayable. He ramped up the aggression in his own play, won more headers from set-pieces and became a far more effective threat on the deck.
County emerge from the two ties with great credit. They have arguably the best wide pairing in the league in Michael Gardyne and Josh Mullin, with one scoring and one setting up a goal in Tuesday's tie. Gardyne got the better of Brad Mckay in his individual duel in both games while in Ross Stewart, they have uncovered someone with a knack of grabbing vital goals.
Defensively, both teams could do with improving. County's lack of mobility at the back hampered them in dealing with the trio of Aaron Doran, Liam Polworth and Anthony McDonald. Doran revels in the derby atmosphere and again had an efficient night's work against the Staggies.
Inverness have struggled for a right-back since David Raven left. Collin Seedorf was wayward and allowed to depart; the knock on Shaun Rooney was that he could go forward but struggled defensively, with little evidence to suggest otherwise so far. Mckay is playing out of position and has been caught out in one-on-one situations.
The dream scenario this season would be County go on to secure a league and cup double, with Inverness enjoying a deep run in the Scottish Cup and play-off success.
Highland football has taken a hammering in the last two years but it is building its foundations again.