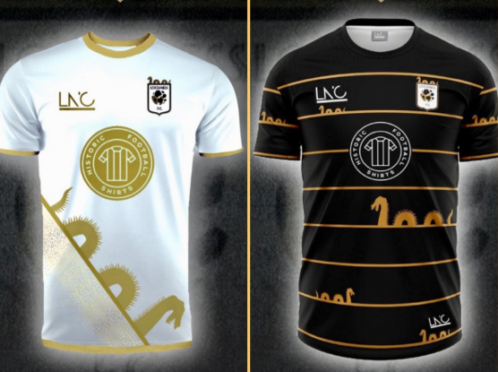 North Caledonian League new boys Loch Ness FC have made waves around the world with their kits for the coming season.
The Highland club, who will play the likes of Alness and Nairn County's second string, during the 2020/21 campaign, have been featured on BBC Breakfast and have also received more than 250 pre-orders from around the world for their striking home and away offerings.
And there has been plenty of love on social media for the black and white kits, which are adorned with Nessie graphics.
Loch Ness FC have one of the BEST football shirts we have ever seen! 🙌🦖 #nessie #bbcfootball @LochNessFC pic.twitter.com/jRj7i6sJFT

— Match of the Day (@BBCMOTD) July 8, 2020
@BBCMOTD and @HollyHNews have breathed life into our club! Thank you so much

BBC News 😲😲😲

We're still on the hunt for our #LOCHNESSsponsor. We have to make a decision by the end of this week so we can fulfil all the orders for our shirts.

Who should sponsor us? pic.twitter.com/oQVeUdVntV

— Loch Ness Football Club (@LochNessFC) July 9, 2020
Club chairman Shane Carling, who founded Loch Ness FC with a friend more than 20 years ago, and has steered the club from the amateur ranks to the Juniors, admitted his shock at the side being thrust into the limelight.
He explained the chain of events which led to the creation of the strips and their growing profile: "It's kicked off and it's definitely something we didn't expect to be honest," Shane said.
"We've been trying to do things with the virus and we've been raising money for the children's ward at Raigmore Hospital – we've done a 5,000-mile cycle. It came from there.
"We got approached by a company called Historical Football Strips – they sell unique tops, old tops, things like that.
"They got in touch to say they wanted to work with us to design a new top. That company designed the black top and we designed the white one.
"We probably put the first one up about four weeks ago, but we only had it on Facebook. It wasn't on Twitter until two weeks ago.
"Once we put it on there, you could see the interest and the tweets we were getting about it rising from there."
Shane says making the tops available for pre-order – the first ever Loch Ness FC strips to be put on sale – was a watershed moment.
He said: "We put them up for sale on Sunday and, from then to now, it's been non-stop, incredible.
"Match of the Day put them up and we didn't know anything about it.
"I then put my phone on this morning when I got up for work and Holly Hamilton from BBC Sport had said on Facebook she was going to put them on BBC Breakfast.
"I thought it was a wind-up!"
The social media storm the tops have created has come at a crucial moment for Loch Ness as they make the transition to the North Caley ranks.
Like all football clubs, they are feeling a reduction in sources of sponsorship, although the orders flooding in for their unique strips have eased their worries.
Shane, who hopes his team can establish themselves in the Juniors when football restarts, added: "When we decided to apply to get in the league last year, we approached a lot of sponsors and a lot were interested straight away.
"Obviously, with the virus coming, a lot of the sponsors pulled out.
"I'm getting to the stage where I'm panicking and wondering whether we're going to have the money to do it, because you've got to pay for everything.
"The amateurs is pennies compared to playing in a semi-pro league.
"With this happening with the tops and sales, we're making a small profit. It's helped and taken a weight off our shoulders.
"But we're still looking for big sponsors who can help us move on. A season in this league is not cheap."