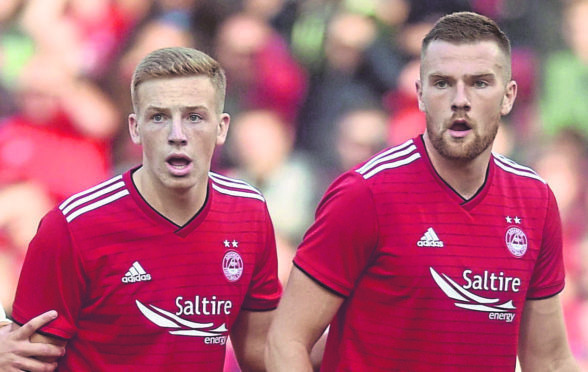 Mikey Devlin cannot afford to let his standards drop at Aberdeen – because his father will be there to hammer him for it.
The Dons centre-back was less than impressed with his performance against West Brom on Friday night, putting it well below the standards he sets for himself.
However, as big a critic as he is of himself, his father Alec will not be slow in telling him where he can improve.
Devlin said: "My dad Alec is my biggest critic. I used to drive to and from games and if I played bad, I'd dread the post-match analysis I'd get in the car.
"Coming up here with Hamilton we'd get a few hidings and I'd actually think about getting on the bus back, rather than driving.
"But when I think I've done alright, he'll have a few notes.
"I'm very fortunate I have a grounded family behind me.
"I know I can rely on my dad to be honest with me and not sugar-coat things.
"Don't get me wrong, the manager will tell me if I've not played well, but it's nice to know I can go home and have a chat with my dad.
"If I've done well he just doesn't slaughter me. If I don't get a hammering, I think I must have done all right.
"He might be coming up on Thursday for the Burnley tie, so I might book him a hotel to get away from it! But hopefully, if I get to play, Thursday will be a positive one.
"I've had six months here now where, for the first two or three months I was doing rehab. I was training the last few weeks of the season and know what standards I need to get to – the club's standards and my personal standards.
"It's an opportunity for me to build that level of trust with the manager and I'll keep working away to improve.
"You have to be demanding of yourself, if you want to play in the Scottish Premiership. As soon as you become comfortable with your own performance, you're in trouble.
"If you want to thrive at a big club you have to be demanding."
A January arrival from Hamilton Accies, Devlin is relishing the opportunity to play in the Europa League against Burnley and then in the Dons' Premiership opener against Rangers.
He added: "That baptism of fire is not a negative – it's a positive that you're playing games of that magnitude.
"If I get to play it'll be massive. You want to play at the highest level and Aberdeen gives you the opportunity to compete for silverware and play in European games. You don't get that at many clubs.
"Burnley finished seventh in the English Premier League, have a great manager and a great side.
"You want to test yourself against the best and you're playing against a team that plays in what everyone calls the best league in the world."