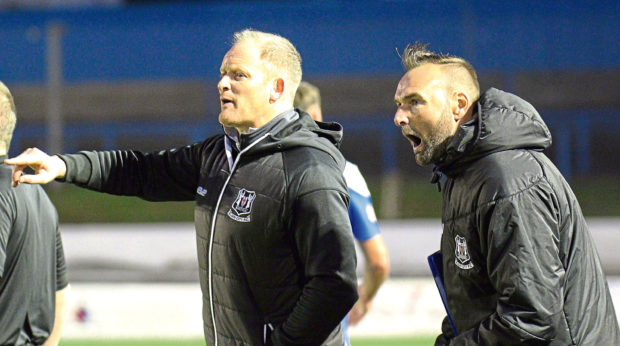 Elgin City manager Gavin Price believes the future is bright at Borough Briggs after extending his deal at the club.
Price, his assistant Keith Gibson, goalkeeping coach Stevie Dunn and kitman John Jack all agreed new deals earlier this week to stay at the club until the summer of 2021.
Brechin City made an approach to take Price to Glebe Park after Barry Smith was sacked earlier this season but the 44-year-old opted to remain at Borough Briggs.
Price, who lives in Aberfeldy, joined Elgin as Jim Weir's assistant in November 2014 and succeeded him as manager when Weir left to take over at Forfar in October 2017.
He said: "Brechin is a very good and well established club.
"I had two spells as a player there.
"It is closer to my hometown but I have been part of Elgin City for five years now.
"I have grown very attached to the club and the people there.
"In terms of fanbase, it is a bigger club.
"It has a lot of potential and it has probably been the geography that has hindered it over the years.
"Hopefully we can find a way through that and have a go at getting out of this league at the top.
"We have a lot of good young players in the squad so we are really determined to keep this group together.
"A large chunk of them are based in the north which is important.
"I didn't have any hesitation in signing the new deal."
Elgin City chairman Graham Tatters is pleased Price has committed his future to the club.
He said: "He played for Brechin which would have been an attraction to him.
"We discussed it because Brechin approached us very professionally and asked to speak to Gavin. I gave him permission because it was the same when Jim Weir went to Forfar.
"Gavin has to do a lot of travelling as Elgin manager and Brechin would have been much closer.
"He has shown a lot of dedication.
"I think Gavin is settled at the club and he has put a good side together so he decided to stay.
"The club stood by him last season when we were on a bad run and we have always shown full faith in him.
"I think he appreciated that."
Price, meanwhile, hopes to celebrate his new deal by making it five wins in a row when Elgin host Annan this afternoon.
He added: "Annan is always a tricky game. They are a hard team to play against. They make it difficult for you."
Elgin have no fresh injuries heading into the match.