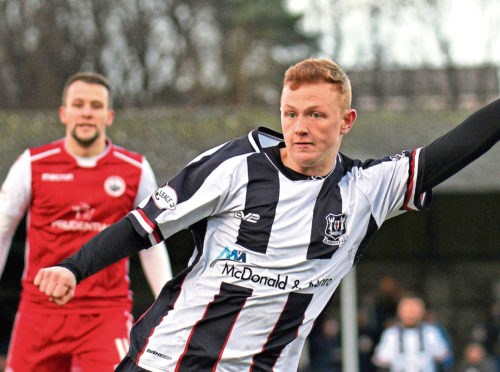 Stephen Bronsky admits the loss of cheap goals is seriously damaging Elgin City's promotion hopes.
The Borough Briggs defender grabbed an equaliser on Saturday with City looking like the only winners entering the final part of the match.
But after blowing good chances, Elgin ended up on the end of a 2-1 beating after substitute Josh Peters' deflected stoppage time clincher.
Bronsky was left furious, and the 25-year-old Glaswegian said: "It's just so frustrating. There wasn't much in it in the first half, but in the second we were on top all the way and scored the equaliser.
"We had two massive chances after that and it just wasn't to be. Out of nowhere, they scored right at the death and we lost the game.
"No matter who we are playing, we are always going to go for the win, especially at home – and at 1-1 our tails were up, looking for that winner.
"That does leave you more exposed, but I don't think they created too much to deserve a goal.
"It just came out of nowhere and two lucky deflections led to their two goals.
"It's more the manner we are losing goals – cheap, cheap goals."
Elgin must now trek south to face Stenhousemuir tomorrow, but Bronsky sees the midweek test as a bonus.
He said: "It's a good thing because it does not let us dwell on this result."
Stirling were first to get to grips with the crisp underfoot conditions with Sean Heaver testing home keeper Tom McHale from distance on 13 minutes.
Elgin were struggling to create and Conor O'Keefe's lob into Blair Currie's arms was the best they could offer in the first 45 minutes.
The home defence went to sleep at a Paul Willis free-kick on 33 minutes, with Heaver's blocked effort falling kindly for Dylan Bikey to sweep home the Binos' opening goal.
City looked livelier at the start of the second half and it took a brilliant full-stretch stop by Currie to turn Shane Sutherland's low drive away on 51 minutes.
Elgin levelled on 73 minutes when centre-back Bronsky rose highest to meet a Russell Dingwall free kick and loop home a header.
Elgin's Brian Cameron then hit a post two minutes later from a Sutherland through ball as the home side sensed they could win it.
But the winning goal came at the other end three minutes into stoppage time, as Stirling sub Peters poked home from a deflected Heaver shot.
Elgin manager Gavin Price said: "We should be sitting here happy enough with a point out of a game against a team that's really hard to break down.
"We've got to manage games better."