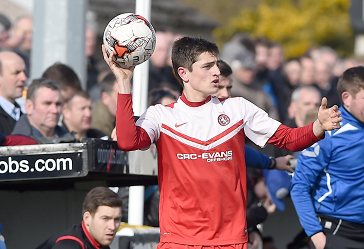 Orkney-based brothers John and James Pickles play for Brora and Wick respectively, but only one of them will be on the field when the sides meet at Dudgeon on Saturday.
Right back John, 22, is unavailable for the Wee Gers but elder brother James will be in his usual spot in Wick's central midfield as the Scorries look for their seventh win in a row.
James, 26, said: "I would have liked to line up against John on Saturday but it's not to be. It would have been good to get one over on my younger brother but these days he's a bit faster than I am and I didn't really fancy chasing him, so I'm quite happy he won't be featuring.
"We have won our last six games and it would be great to make that seven on the bounce against our local rivals. Confidence is high in our camp but Brora will want to go out and impress Ross Tokely.
"For us, there's no better game in the league than our derby against Brora, whether at Harmsworth Park or down there. It is brilliant."
Reflecting on Academy's impressive form this season, Pickles added: "I can't put my finger on why we seem to be doing better away from home this term. It is strange and it could be that there is a little bit less pressure on us when we're not playing in Caithness. Perhaps we're playing with a little bit more freedom, but our away form has definitely been better."