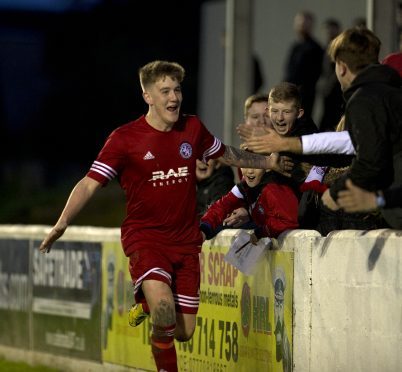 Brora Rangers' Scottish Cup trip to Kilmarnock tomorrow will bring Cattachs striker Kyle MacLeod the opportunity to come up against his role model in defender Scott Boyd.
Brora are eagerly anticipating tomorrow's glamour trip to Rugby Park, with more than 400 supporters expected to make the journey to Ayrshire for the club's first appearance in the fifth round.
The encounter will bring some degree of familiarity for attacker MacLeod, who came through the youth ranks at County from the age of seven, however.
After joining from Partick Thistle in 2007, Boyd became a favourite with the County supporters and was rewarded with a testimonial last March, albeit after he had made the move to Killie.
MacLeod says Boyd was equally revered by the young players at Dingwall, and said: "It will be good to see Scott. He's a nice guy who was easy to get on with, just a normal person who treated everyone the same. He was down to earth, everyone liked that about him which is why he was loved by the fans.
"He was a big influence, in the respect he was a model professional.
"He was a family man who did everything right, things like his diet and going to the gym.
"He was someone you would look up to, and someone you'd want to base your career around.
"It wasn't just in football – he's actually just completed a sports management degree at the open university.
"He has looked at what he wants to do already after football and I think that's something every young footballer should look up to.
"He was definitely one of the most popular figures at the club, especially in my time there."
MacLeod has taken inspiration from Boyd in his search for a livelihood after full-time football, having suffered the setback of being released by County last January.
After quitting his job as a caretaker at Inverness Leisure in December, the 22-year-old is looking for a new opportunity, adding: "I am in the process of looking for an apprenticeship as an electrician. I want to find something to base a career around.
"I need to do my competency test at the UHI. Usually once you do that it sparks the interest of companies to take you on as an apprentice.
"I have sent out CVs and I'm waiting back to hear about getting an appointment for my test at the college. We will see how that goes.
"I'm looking for something else to tide me over in the meantime because most apprenticeships don't start until August."
Fortrose-born MacLeod is relishing the opportunity to face Steve Clarke's thriving Killie side, adding: "Because it's such a one-off day, playing against Premiership opposition, every player on the pitch is going to have adrenaline running through them.
"That will maybe not take them to the same level Kilmarnock are at, but I think it will bring us close. We know we've got nothing to lose, so it will get us through most of the game.
"It will test our character and fitness towards the end of the game. But we will see what happens if we can keep ourselves in the game.
"The boys are really excited to test themselves against full time opposition. I'm looking forward to it myself."