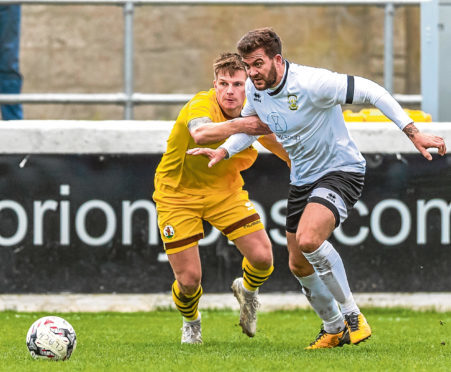 Clachnacuddin striker Dan MacLennan is set to leave the wintry weather behind to further his footballing career back in Australia.
The 26-year-old, who works for Marine Harvest at Invermoriston near his home town of Fort Augustus, is awaiting confirmation that he has a visa.
He expects to fly out to the sunshine of Victoria within a fortnight and sign for National Premier League side Bulleen Lions.
MacLennan said: "I was over in Australia for about eight months three years ago. It was alright but the standard of football with Wagga City Wanderers in New South Wales wasn't all that good so I didn't really fancy staying for much longer.
"However I now have the chance to play my football three leagues higher than last time with Bulleen Lions from Melbourne.
"They play just one division down from the top division in Australia, the A League.
"I was with Fort William when I was only 17-years-old and one of my Claggan Park teammates from that time, Sean Ellis, plays for another team in the same division.
"The weather in Australia is a great attraction for me. I've always wanted to be in Australia and the level of football I'll hopefully be playing is a real bonus."
MacLennan says he can't wait to start his new life Down Under. He added: "I will be playing part-time football and training three times a week.
"The money is good and hopefully the club will also help to find me a job, possibly coaching, and obviously the lifestyle is more attractive.
"I have signed for Bulleen and everything is set to go.
"All I need now is for my visa to come through hopefully it soon will.
"I've enjoyed my time at Grant Street. They are a great bunch of lads and my manager Iain Polworth has been really good to me."
l Highland League secretary Rod Houston is refusing to panic, despite all four midweek Highland League games being called off and the prospects for the weekend looking bleak.
The biggest problem for Houston is the league require a champion to be crowned by April 14 in time for the SPFL play-offs.
Houston said: "I think there would be a common realisation that Cove Rangers are champions-elect and we have to look at how we manage that in a manner that is respectful of other clubs who are still in the title race.
"Nevertheless, April 14 currently sits as a deadline but it wouldn't take that many more postponements to start conversations as to how we might work the calendar to buy that little bit more time.
"I would think that the snow in central Scotland may also impact on the Lowland League and indeed the SPFL this weekend.
"We are all in uncharted territory as it has been an extraordinarily difficult year for weather, between the wet autumn and the wintry spring.
"But I'm a pragmatist and I'm sure we'll find the best way we can through it, and try to upset the least number of people possible."
However Houston is confident the problem will be resolved.
He added: "You could say that the finger is hovering over that panic button. We did make a wee dent in the fixture backlog last week but last night's postponements were a further setback.
"The prospects for this weekend aren't bright, the weather forecast isn't too promising so once I see that picture we will just have to soldier on and find a way of getting us to the end of the season."