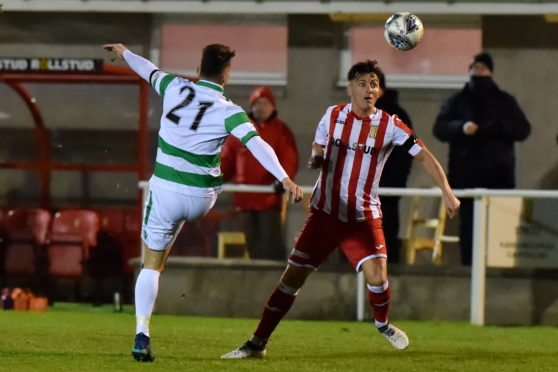 Formartine United are aiming to win the Aberdeenshire Shield for the first time in their history when they face junior outfit Banks o' Dee in the final at Cove's Balmoral Stadium tonight.
United's top scorer Archie Macphee, with 23 goals to his name, is hoping that he and his team-mates can make their first Shield final memorable.
Macphee said: "It is always nice to win a trophy and hopefully we can go on and create our own little bit of history.
"We know it is going to be a tough game as Banks o' Dee have shown their quality by beating a number of Highland League sides over the last couple of seasons so we're going to be in for a very tough game.
"Apart from our 2-1 defeat at Fraserburgh on Saturday we have been on a great run of form and we now need to move on and try to bounce back. Hopefully we'll pick up another piece of silverware."
The 25-year-old former Ross County, Forres Mechanics and Elgin City left-sided player hopes tonight can be the first of a cup double for his side.
He said: "With a bit of luck we could even bring home two pieces of silverware this season as we are also in the semi-final of the League Cup and if we were to win both that would be a real bonus.
"I have scored 23 times this term so far and could have had a few more but the boys have been creating the chances and that makes it easy for me."
The Aberdeenshire FA has dedicated tonight's final to the memory of their long-serving secretary, Brian Christie, who passed away at the age of 59 just before Christmas.
His temporary successor, another former referee, Willie Young, paid tribute to Christie when he said: "The final is a tribute to the memory of our late secretary Brian Christie. The association is looking forward to hosting the final tie at Balmoral Park in Cove and I am hoping for a large crowd to come along."