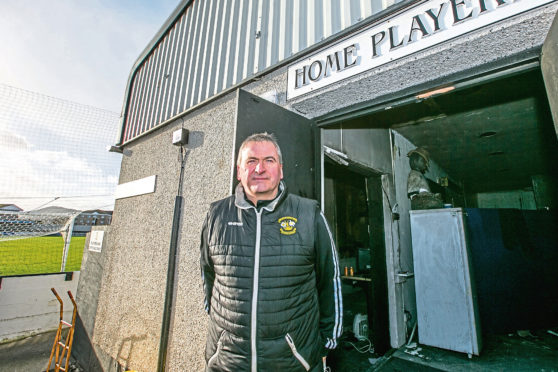 Clach chairman Alex Chisholm was relieved to be back at Grant Street Park after three months away.
A fire in the laundry room on Christmas Eve caused significant damage to the ground, leading them to decant to Highland Rugby Club's Canal Park for Friday night games against Fort William and Forres Mechanics.
For the Formartine game on Wednesday, Clach moved into the away dressing room which was untouched by the blaze, while the visitors changed in a newly-installed portable cabins in the car park adjacent to the ground.
Although they went down 3-0 to United Lilywhites chairman Alex Chisholm admitted there is no place like home.
Chisholm said: "It's massive for us to get back home. We've been away for long enough so it will give our players, fans and manager Sandy McLeod a real boost to get back to where we belong.
"The people at Highland Rugby Club seemed to take to football and the arrangement worked really well and we had excellent Friday night crowds. Looking ahead, for certain games, I think that would be advantageous as the players seem to like having the weekend off with their families."
Wednesday night's homecoming also marked the swansong for Clach John MacAskill, bringing an end to his 13-year career with the Merkinch club. MacAskill has recently been promoted to head ghillie on the River Conon.