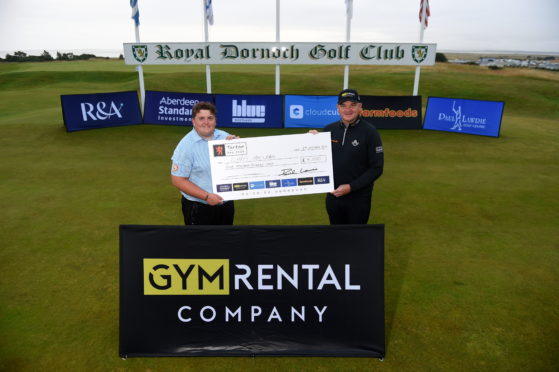 Clydebank's Chris Maclean was thrilled to put previous play-off heartache behind him by triumphing at the Royal Dornoch Masters.
Maclean secured victory at the Tartan Pro Tour event in the Highlands yesterday after his five-under-par score, with rounds of 66 and 69, took him to a play-off with Craig Lee.
After the pair had tied the first hole of the sudden death play-off, Maclean triumphed on the second hole by scoring a level par three.
In Maclean's penultimate event before the coronavirus shutdown in March, the 25-year-old had been beaten by German Nick Bachem at the Open Royal Golf Anfa Mohammedia in Morocco.
Maclean held firm on this occasion to win the £4,000 cheque in the third event of Paul Lawrie's six-tournament Tartan Pro Tour.
Maclean said: "I got beaten in a play-off in March on the Pro Golf Tour, so it was nice to finally get the win.
"I was trying to channel good vibes all the way through the play-off this time around.
"It feels like it has been a while coming, but I have been playing good golf.
"It's nice to validate that feeling – although it was more hard work than I wanted it to be."
Maclean feels the new tour, organised by 1999 Open champion Lawrie, has given him a timely opportunity to play some of his favoured courses.
He added: "This is definitely one of my favourite courses, I have played it a few times. I played in a few team matches here when I was at Stirling University.
"I have always enjoyed playing here. It's always in great nick, and the greens were especially so this week.
"It's dead easy to play good golf when it's in good nick.
"Getting to play Carnoustie was fantastic, and the Paul Lawrie golf centre was in great condition.
"I'm really thankful to Paul, the Foundation and all the sponsors for setting this up for us.
"If we didn't have this we would be having to travel down to England. This has been fantastic, and I'm really hoping it goes forward in the future.
Maclean's victory puts him in contention on the order of merit, with a place at the Scottish Open up for grabs for the tour winner.
Maclean's attention now turns to the Pollok Open which starts tomorrow, and he added: "If you are going to get a Scottish Open place you are going to need to win at least one of them.
"I have definitely thrown my hat into the ring for that, so hopefully I can keep playing the way I'm playing you never know.
"It's a home game for me, coming from Clydebank.
"It's a long drive home but it'll be nice to wake up in my own bed and it's nice and easy being 20 minutes away from my house.
"Pollok is a great course, which is one of the main things about this tour."