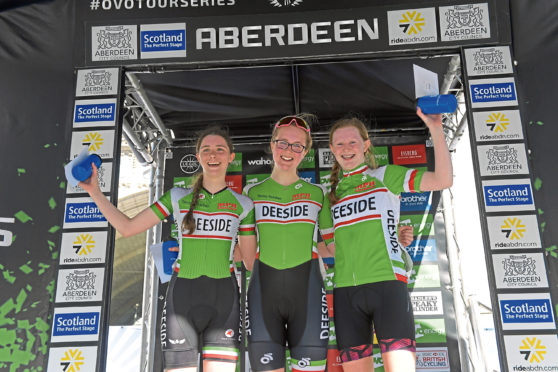 Cycling clubs from across Aberdeen and the Shire turned out to use the Tour Series as a showcase for their own talented riders.
Deeside Thistle, Aberdeen Wheelers, Westhill Bike Club, Ecosse Northboats, Grampian Tigers, Stonehaven Cycling Club, TEN Cycling Club, Ythan Cycle Club and Holburn Cycles were just some of the local representatives that took to the streets.
For Deeside, who have had a push on recruitment for younger riders, it was a chance for burgeoning talent to put their skills into practice and scoop some early success.
Alan Campbell, president of Deeside Thistle, said: "We're delighted this event is on at Aberdeen. We've had a big push on for youngsters and you'll have seen from the youths events, we've got so many girls and boys riding in Deeside kit.
"Cycling has never been as popular as it is at the moment and it's really good to showcase an event like this here. These youngsters are the future and they've been inspired by things like the Olympic Games, track success and the Tour de France.
"People see the jerseys out on the track and want to sign up. The youngsters put their bikes on the rollers and take inspiration from the Olympic champions and similarly, when other youngsters come along and see this, they want to sign up. It's so good to have this on our doorstep."
Teams pitched their pit-stop tents roadside and had the ideal view of the action, as racers came up Union Street and turned on to the finish straight on Broad Street.
It was also an opportunity for clubs to attract new recruits, with registration points located in the team tents for prospective sign-ups.
Nick Andrews, from Westhill Bike Club, said: "As a club we're not dedicated on racing as such – it's more a social side, getting as many people into cycling as we can.
"It's a great event for Aberdeen.
"We've got guys taking part who do race regularly but, as a whole, the team is for the social side of riding. For some rides, for instance, you must stop for a coffee and cake. We try to get people in who are less confident on the roads and out in Westhill the roads are a bit quieter.
"The numbers have been growing steadily over the last few years. The big focus for us is alongside the Westhill Gala – we run the bike ride there, which is an inclusive 20km ride."