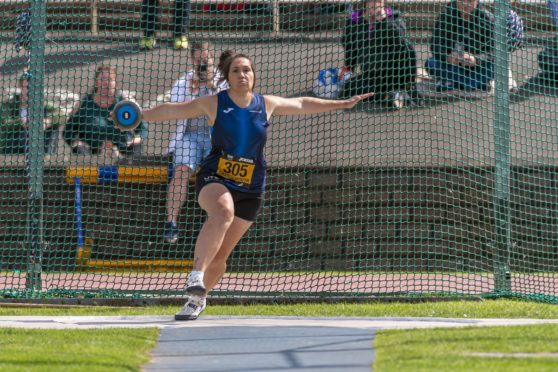 Highland discus thrower and Olympic hopeful Kirsty Law is in better shape than she has ever been at this stage of any year but, like everyone, now finds herself in limbo due of the coronavirus pandemic.
The 12-time Scottish champion and British title-holder opened her season on March 7, clearing 56.38m for victory in the Loughborough Winter Throws meeting.
It's the furthest the Inverness Harriers club member has ever thrown in an opening day competition and isn't too far short of her PB 57.79 dating back to 2012.
After her Loughborough performance, Law was selected to represent Great Britain in the European Winter Throws meeting at Leiria, Portugal, but that was cancelled and she hasn't been able to compete since.
She said: "I heard about my selection one day and the meeting was cancelled less than 24 hours later, which was annoying.
"I was going to take part in another competition in Portugal and staying over for a week in between the two, but the plug was pulled on that one as well.
"I was also planning to go to America at the beginning of April for some training and competition. I did that last year and it worked well for me but that, obviously, is not happening either now.
"It's all very frustrating; my opening competition was so encouraging as I managed a good throw in difficult circumstances.
"The discus cage we usually use was condemned as being unsafe, so we had to use a new circle which had just been laid. It was very slippery, I could hardly stand up in it. The wind conditions were bad as well, so to throw as far as I did was satisfying.
"I was hoping to build on that but now we don't know what might be happening.
"My coach and I sat down recently to plan some other competitions here in Britain during April, including one in Inverness, but none of them are on now.
"I'll just try to carry on training as best as possible but I'm not sure what I'll do for weight training."
Law, 33, who is based in Loughborough, was hoping to launch a serious bid for Olympic selection but, like so many others, now questions whether the Tokyo Games will go ahead as planned this summer.
She said: "I really thought the Olympics might be postponed and I don't see how they can go ahead. There has even been talk of them maybe happening without any spectators, but that wouldn't be good.
"If they are to go ahead it's quite worrying because, at the moment, there is no way we can qualify for them. There are no competitions, so how are we meant to qualify?"