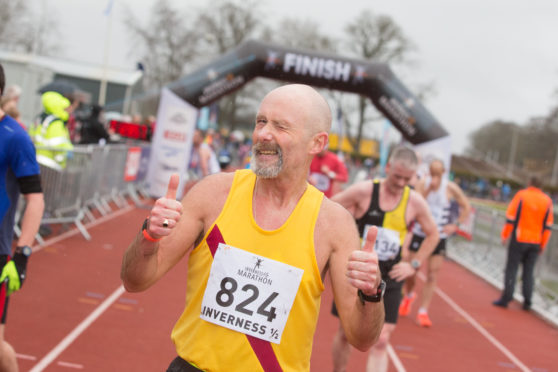 Inverness-based Aberdonian Graham Laing has been reflecting on the role he played in the inaugural London marathon which should have been celebrating its 40th edition this weekend.
The race has been put on hold because of the Covid-19 pandemic with organisers having rescheduled it for October 4 in the hope that social distancing rules will have been sufficiently relaxed by then.
The London marathon is one of the world's major events and last year more than 40,000 people took part, but when Laing ran in 1981, just under 7,000 completed the 26.2-mile course from Greenwich to Westminster.
Norway's Inge Simonsen and USA's Dick Beardsley finished joint first, sharing the same time of 2hr 11min 48secs, while England's Trevor Wright was third in 2:12:53.
Aberdeen AAC's Laing was the surprise package, producing an outstanding performance to finish fifth in 2:13:59, an improvement of close to six minutes on his previous best.
Although the north-east man went on to take seventh position in the following year's Commonwealth Games in Brisbane, where he recorded 2:14:54, the London result would prove to be the fastest of his long and successful career.
Laing, now 63, still turns out for Inverness Harriers, having moved to the Highland capital a little over 30 years ago, and he has fond memories of his first outing on the streets of London.
He said: "It was my fifth marathon and my best time prior to that was the 2:19:33 I set when winning the Aberdeen marathon for the second time, in 1979.
"I had gone to Japan for the Beppu marathon less than two months before London but ran too fast in the first half and ended up in 40th position in 2:26:59.
"But I had trained well over the winter and felt I could possibly run about 2:15:00 at London if I ran sensibly.
"Conditions on the day were perfect and I felt comfortable for most of the way. I was in the leading group until around 16 miles when it began to break up and I was pretty much on my own from there on.
"I was absolutely delighted with my time and position. I could hardly believe it."
Nowadays the leading athletes in the London race can take away massive cash prizes. Winning in a course record time could net an athlete well over £100,000 on top of a healthy appearance fee and expenses, while the top 12 all receive prize money.
That wasn't the case in Laing's day, as he explained: "I travelled down with a group of clubmates from Aberdeen AAC. I think we took the train and paid for our own travel and hotel.
"I honestly can't remember if I got a prize at all. I think it might have been only the top three finishers who got anything."