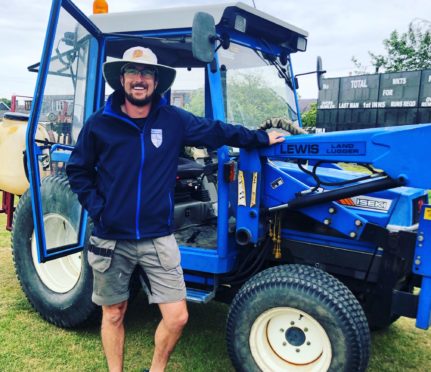 The home of north-east cricket has a new head groundsman who is well acquainted with the Mannofield turf.
Calum Howard, a product of the Huntly cricket conveyor belt system, has an extensive knowledge of Mannofield, having played for Aberdeenshire in the Eastern Premier, the top flight of the Scottish club game.
He also worked under former groundsman Ken McCurdie, who retired at the end of March after 20 years in the post.
Howard said: "I first came to the club in 2013, as an all-rounder before acting as assistant to Kenny in 2016, giving me the best possible training for one of the most, if not the most prestigious groundsman posts in Scotland.
"I am very excited about taking sole charge; taking over from Kenny is a bit like following in the footsteps of Sir Alex Ferguson, but I'll be my own man."
McCurdie's track record would daunt most, given that he won so many honours, including top UK groundsman, in his 20 years at the club.
Howard added: "He was an excellent trainer who aimed to produce a pitch to the highest standard, regardless of whether it was for an international game or an under-10 match.
"I like to think I will be working to the same high standard; although there has been no action of late, the track is ready when we get the call."
The talented left-handed batsman admitted he is unlikely to go back to top level cricket, but will not rule it out entirely.
He said: "I will continue to coach under-age cricketers at Huntly at weekends in the winter, but my real passion now is to carry on the tradition of producing the best cricket pitch in Scotland."
It has been an unusual start to any job, given the suspension of all fixtures until such time as the Scottish Government and Cricket Scotland agree a date for commencement.
And changes are afoot at Mannofield under the eye of president Willie Donald, who is also the president of Cricket Scotland and an ex-Scotland internationalist, who hails from Huntly.
Howard added: "It's not exactly the start I had envisaged, but I am looking forward to the challenge, while Kenny is sunning himself in his retirement home in Gran Canaria.
"I wish him well. He gave me the best of starts at a ground I love."