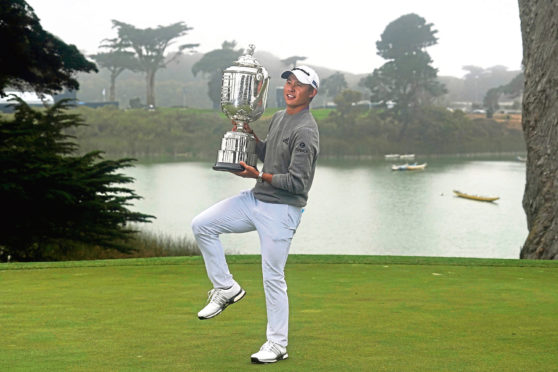 Collin Morikawa has officially announced himself as the next big thing following his win at the US PGA Championship at Harding Park on Sunday.
After all, he boasts the best statistic in golf right now in that he has played in the same number of majors as he has missed cuts.
That shows consistency and form, two vital components for any golfer hoping to win a major. What he didn't have was experience, but he certainly has that in his locker now.
To become a major champion at just the second attempt is impressive in anyone's books and I take my hat off to him for the manner in which he won in San Francisco.
He joins fantastic company too in becoming a PGA winner at 23, with Rory McIlroy, Tiger Woods and Jack Nicklaus also on the list.
His play in the closing stretch was unbelievable, with his chip at the 14th and drive on to the green at 16 going a long way to giving him a two-shot win.
He led the field in putts and driving for the week and it's not as if his iron play was poor either.
He needed that sort of form given the quality of a chasing pack that contained guys like Brooks Koepka, Dustin Johnson and the remarkable Paul Casey.
Paul's runner-up finish was his best in a major at the 64th attempt and, coming at the age of 43, he has to be feeling good about himself.
His major record is certainly impressive and the only surprise, given his track record of top 10 finishes, is that he hasn't won one yet.
One man who didn't feature high up the leaderboard was world number three Rory McIlroy. It has been six years since Rory last won a major and he ended up tied for 33rd, 11 shots behind the new champion.
But his comment of "maybe I'm just not as good as I used to be" is not one to be taken seriously. This is the Fed-Ex Cup champion we're talking about and a man who is consistently in the top five of the world rankings.
That is anything but a man in decline or someone who has lost the golden touch. He's a champion golfer and I've no doubt he will prove that again.
But we cannot detract from Morikawa's fantastic victory. His win in San Francisco takes him up to fifth in the world rankings in what has been a truly remarkable climb since turning professional 18 months ago.
It is clear this young guy has a huge future ahead of him in the game.
With two more majors to come before the year is out we'll see what effect this win has on him.
Classic way to get back on course
After a five-month break it feels great to be back playing European Tour golf again.
I'm in Newport this week for the Celtic Classic at Celtic Manor, the first event of two-in-a-row at the venue.
I've got a lunchtime start and I feel like a kid again about the prospect of getting out there again – although it was a shock to the system to find it touching 33 degrees when I arrived.
After such a long break it's effectively a "suck it and see" week for me. I've got no real expectations, all I'm aiming to do is get out there, hopefully have four rounds of tournament golf, and see where it takes me.
With Celtic Manor also hosting the Wales Open next week, I'll take the chance to head home for a few days in between, but I am curious to see what changes are made from this week to the next.
I know it's happened at Muirfield Village in the United States where the course has been relatively easy to play one week then dried out and made much tougher for the next.
But hopefully this week's six rounds will have me well prepared for next week.
European Tour lucky to have Martin Gilbert on board
I really hope the horrendous downpours don't impact the ASI Scottish Ladies Open at The Renaissance this week.
I've played the course regularly this year and I can honestly say it is in the best condition I've seen. It deserves to host a big event like this and it's important for golf, Scotland and the women's game that everyone gets the chance to showcase how good they are and how good the tournament is.
Pals of mine sent me some videos and photos of the thunderstorms yesterday and with more forecast I hope all goes well for everyone involved.
The tournament is one of the last events ASI chief executive Martin Gilbert will be involved in as he is set to retire, but I'm delighted to see him accept a role as non-executive director on the European Tour.
It's a clever move on our part, and what Martin has done for the game in Scotland in the last 20 years and more is spectacular.
From supporting initiatives like my foundation to LET and European Tour events, he has been an avid supporter of the game in this country.
He is passionate about his golf and with such a fantastic track record in business behind him the tour is lucky to have him on board.