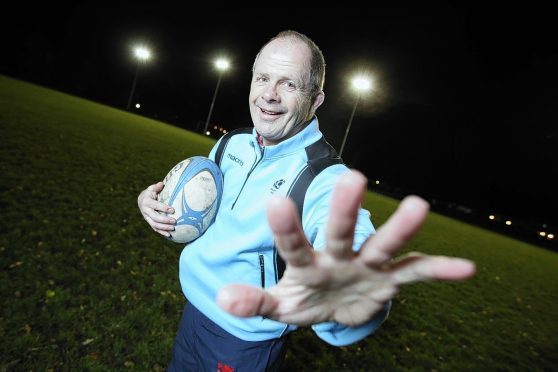 Scotland's oldest league rugby player will end his career in style today when Ross Sutherland hooker Alan McLean plays in his farewell match against a Highland select at Invergordon.
McLean, who recently turned 60, marked his final competitive match for the Stags, who play in Caledonia 2 (north-west), by scoring a try in their 67-0 home victory against Lochaber on November 5.
The curtain will come down on his career this weekend with his former club Highland sending their oldies team, Highland Bald Eagles, to play in today's fixture.
Highland's side will also include players from their seconds, with the Inverness outfit's first team on National Cup duty against Premiership side Glasgow Hawks.
McLean, who is based at Portmahomack and who runs a farmers' co-operative, says he was close to hanging up his boots two years ago only to be persuaded otherwise by his wife, Mary. Despite ending his 41-year playing involvement he still intends to carry on playing oldies rugby.
McLean said: "It's a game I have thoroughly enjoyed since I was seven. Two years ago I was thinking about stopping but my wife told me I would regret it.
"I will miss it but it's been at the back of my head for a while. I'm a bit taken aback and humbled by all the interest. I'm not going to play for Ross Sutherland any longer but I still want to play oldies rugby."
McLean insists he has not struggled to cope with the demands of playing for the Invergordon outfit.
He added: "I still feel fairly young and I am still in pretty good nick. I have been training on a Tuesday and a Thursday and playing on a Saturday. I've played three entire games and had four or five substitute appearances this season. Last season I played 15 or 16 full games.
"I've certainly broken a few bones, including both my hands, and I've had quite a few cartilage operations."
McLean is hoping for a large turnout for today's match, which kicks-off at 2pm.
He added: "I started my career with Highland and managed three or four games for them in my first year out of school in 1975. I went on to captain Highland for a couple of years.
"The reason I stopped was that I was travelling from near Tain and Highland were playing a lot of their games in and around Edinburgh and Glasgow. It was a big commitment for someone with a young family. I went to Ross Sutherland and have been involved with them since around 1988.
"My friend Colin Baillie, who is the honorary president at Highland, is coming to the game instead of going to the Hawks match, so I am very much looking forward to it."