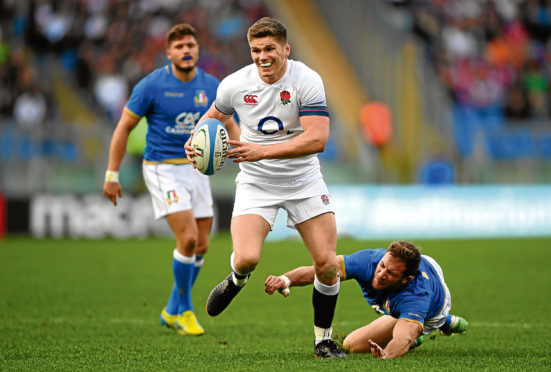 So now we know. After the first two rounds of the 2018 Six Nations Championship, there are five teams who are capable of giving each other a tough match, and four already have at least one win to their name.
Then there are the Italians, who have conceded 102 points in their brace of contests and were effectively beaten by Ireland in the opening 20 minutes in Dublin at the weekend.
It leaves one wondering whether it's time to consider reshaping the format of European rugby, with a view to giving the Azzurri a wake-up call and expanding the opportunities to other countries who are making strides forward in the sport.
Let's not pretend Scotland have suddenly moved into a different class from the side who lost at Murrayfield to the Italians as recently as 2015 and with whom they have shared too many battles for the wooden spoon.
But the reality is that it is nearly 20 years since Italy were admitted to Europe's premier event – in 2000 – and neither their club representatives nor their national side have shown any signs of challenging for honours at home or abroad.
Surely their structure would be galvanised by the creation of a two-tier European event with the addition of Georgia, Romania, Russia and Spain or Portugal. At the outset, the plan would involve the introduction of the second-tier competition, but in four or five years time, by 2022 or 2023, there would be the potential for one of these countries to sup at the Six Nations table. This, of course, might be opposed by the established order, but Italy have had long enough to get their house sorted out, while the Romanians and Georgians have shown sufficient signs of their potential to be promised more than the occasional scrums of comfort by the IRB.
It's time for the notion of the bottom side in the Six Nations – and yes it has been Scotland often enough in the last two decades – to face the real prospect of relegation, by meeting the leading team in the second division in a home-and-away play-off at the end of every season. Cricket is trying to increase the number of Test sides, with the introduction of Ireland and Afghanistan and while this duo might struggle to make an early impact, at least their presence will shake up the status quo.
The same has to happen in rugby. Not immediately, and not without the newcomers gaining more chances to prepare themselves for the challenge. But England have just confirmed they will be scrummaging with the Georgians this week to get ready for their Calcutta Cup clash with Scotland.
The world is changing. Rugby has to adapt to that process.