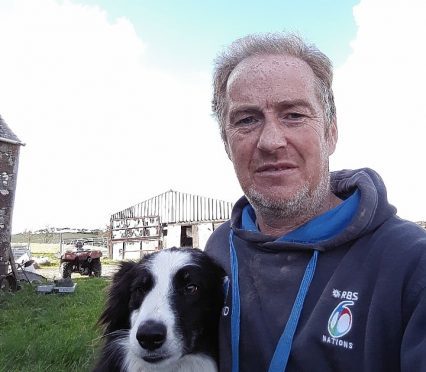 A long-standing campaigner for dyslexic farmers' rights has accused government and industry organisations of not doing enough to help dyslexic farmers and crofters.
According to Sandy McCreath, who runs a sheep farm on the outskirts of Wigtown in Dumfries and Galloway, pledges by organisations to improve access for dyslexic producers have resulted in very little change.
Mr McCreath, who is dyslexic himself, said he previously took part in a study into the accessibility of the government's farm payments IT system, which found it was completely unsuitable for use by dyslexic farmers.
He has now accused farming organisations, including NFU Scotland (NFUS) and Quality Meat Scotland (QMS), of not doing enough to help dyslexic producers.
In May 2015 NFUS launched its Best Practice in Communications Guide to address the challenges faced by dyslexic farmers and crofters in accessing information. The union also ran a campaign to raise awareness of dyslexia in the farming community.
"The NFUS thinks the dyslexia campaign has been a great success, but nothing has changed," said Mr McCreath.
"I am no longer a member of the dyslexia working group on the NFUS because I think they are being quite dishonest. The perception is that something is being done but I can see that the NFUS and the various partners are doing nothing."
NFUS president Andrew McCornick refuted the claims and said the union had worked with Scottish Government to ensure local department offices were as open and accessible as possible so that farmers and crofters facing difficulties accessing the farm payments IT system could get help.
QMS head of communications, Carol McLaren, said the levy body had introduced a number of changes to help dyslexic farmers including making its documents more dyslexia-friendly and producing more video content.
She said: "Having sought expert advice from organisations such as Dyslexia Scotland, QMS is very aware that there can be a significant variation in the way dyslexia affects different individual farmers."
The Scottish Government said it was committed to ensuring its services were accessible by all.
A spokesman said: "We are working to create best practice in accessibility by making changes to our system, branding and the manner in which we implement and communicate these. This includes working with NFUS to support their Farming with Dyslexia campaign and, as part of this, we've taken a range of steps to improve accessibility to our channels.
"We have made good progress, however we are aware more can and needs to be done to ensure that our services are accessible to all."