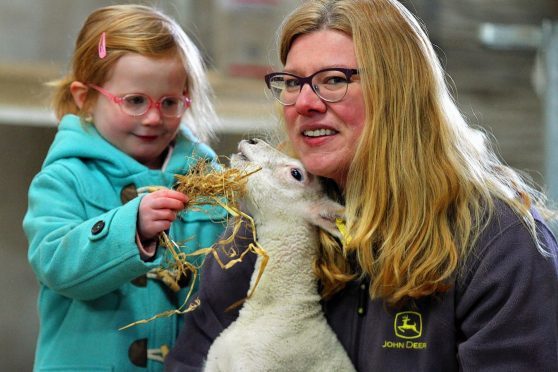 Farm stays aren't new to the UK but there's often a disconnect between the accommodation and the working farm outside – and that's a gap Angus farmers Graeme and Louise Nicoll have bridged at Newton of Fothringham with the launch of guided tours.
The farm, which forms part of the Fothringham Estate, near Forfar, has a diverse history and has been tenanted by the Nicoll family for the last four generations.
Once a dairy unit, the 550-acre farm is run as a mixed enterprise. Beef cattle are reared on a commercial basis, while much of the arable production is concentrated on barley grown for malting and silage for fodder.
"Unfortunately, a couple of years ago, we became tangled in the government's farm payment IT system shambles," said Mrs Nicoll.
"We were amongst the last farmers to gain any support money and it really stifled us. It made us sit back and really assess our business and I felt that we really needed to explore all possible avenues of additional income. It became about survival."
Mrs Nicoll, a former medical sales specialist, has run bed and breakfast from the main farmhouse, as well as self-catering holiday accommodation from a renovated farm cottage, since 2007 and thrives upon getting to meet and engage with new people.
She said: "I really wanted to find a way to better connect these businesses with the farm, so they could feed off one another. It was actually our B&B guests that convinced me the appetite for farm tours was definitely there as they regularly asked to meet our growing collection of animals."
In recent years the farm has become home to ducks and chickens, pedigree Anglo Nubian and Boer goats, a handful of sheep, plenty of pet lambs, a small herd of Alpacas and Lucy, the micro-pig happily rescued from a Glasgow tenement building.
"In the end I took a leap of faith and launched the first official farm tours in February. It just seems to have erupted from there. I'm genuinely shocked and excited by how busy we have been," said Mrs Nicoll.
During each tour, which can be tailored for the young and old, Mrs Nicoll describes in animated detail how farm chores link the fields and animals to good, healthy food.
The sessions last around two hours, giving customers a true flavour of the countryside as well as a hands-on opportunity to meet and feed a wide variety of farm animals.
And for those looking for added adventure, the Nicolls have also established an Alpaca Walking Experience around the farmland, with the aid of a business grant from Angus Council.
"It's a really bespoke and authentic day – out on the farm and in the fresh air, no matter the weather – and I think that's what has charmed people," added Mrs Nicoll.
"We're just sharing what we do each day and most importantly explaining why."