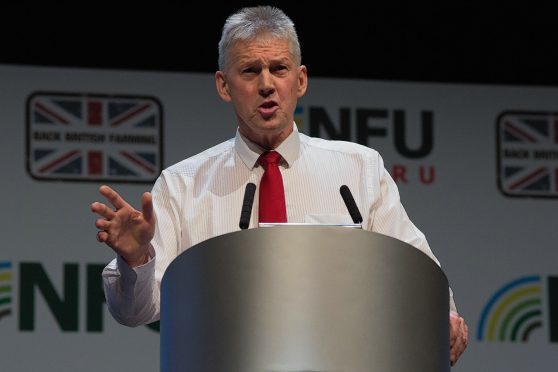 What a great spell of weather we have enjoyed.Out wintered stock are in good condition with plenty of grass in front of them and crops are looking well.
The pessimist in me, however, worries that as soon as our lambing starts in early April the rain, wind and cold weather we should have had over winter will reappear with a vengeance.
For the food and farming industry they must wish the political weather was equally benign. Instead we find ourselves in the eye of a political storm hurtling towards a possible no-deal Brexit in four weeks' time.
It is hard to comprehend that as lambing gets underway UK farmers literally have no idea whether they will be able to sell their lambs into key EU markets this summer.
At the NFU conference last week I listened to Defra Secretary Michael Gove outline in grim detail the consequences for the UK food industry of no deal.Tariffs ranging from 40% to 100% will be levied on beef and sheep meat. Food exports to the EU will need checked at the ports, they will require vet certified Export Health Certificates and a new set of UK labels on them.
He revealed that Calais, where the vast majority of food exports travel through, currently has no Border Inspection Posts in place to carry out these checks.He predicted that the combination of high tariffs, new checks, new labelling, and extra transport costs would hit livestock farmers hardest.
In the UK Government's latest update on preparations for a no-deal scenario there is even more bad news. Of the 40 EU trade deals with other countries which we currently benefit from the UK has only managed to sign new trade deals with a handful of them. It also warns that the food sector would be hit hardest with increased food prices and shortages of fresh fruit and vegetables.
The key to the farming industry surviving a no-deal scenario will be the tariffs the UK Government applies to UK food imports.
There is a huge political battle raging at the heart of Government between on the one side the free traders, led by Trade Minister Liam Fox, who want to slash tariffs, allowing cheap imports to flood in keeping food prices low. On the other side of the argument Michael Gove is leading the charge for tariffs to be set high enough to protect UK farmers and landowners.
This political fault line dates back to the Corn Laws but the outcome of the current dispute will be crucial in determining whether UK agriculture shrinks in size or continues to prosper post-Brexit.
Listening to Gove I was struck by the absurdity of him warning of the huge risks of a no-deal while at the same time his Prime Minister insists it is still a viable option. March 12 now appears to be crunch time and I think you can probably bet that a majority of sensible MPs will vote to block a no-deal and an outside chance May's deal goes through.
If that happens it should cheer up UK sheep framers who at least can get on with lambing confident there will be an export market for their lambs, this season.