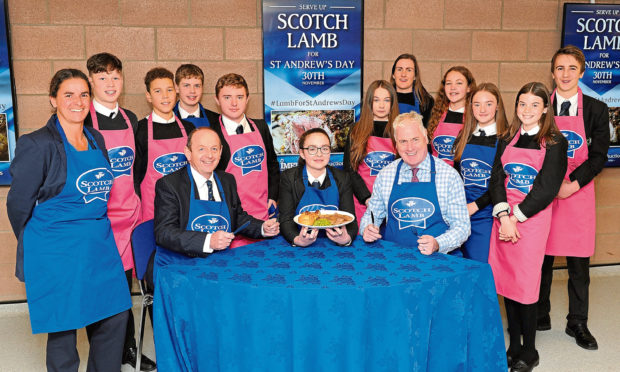 A campaign to make Scotch Lamb the national dish for St Andrew's Day celebrations is gaining support across the country.
The initiative – #LambforStAndrewsDay – was originally thought up by United Auctions (UA) managing director, George Purves, and Lanark sheep farmer Willie Mitchell, in 2010.
Last month Mr Purves relaunched the campaign and urged UA customers to encourage friends, family and neighbours to put lamb on the menu on November 30.
To aid the campaign, UA, which operates auction marts across Scotland including Stirling, Huntly, Lairg and South Uist, has offered clubs, schools and organisations the chance to apply to receive one of 10 locally-sourced lambs if they want to host a St Andrew's Day celebration.
Mr Purves said more than 1,500 people have now committed to celebrate St Andrew's Day with Scotch Lamb.
"The aim of this campaign is simple: we want to make Scotch Lamb synonymous with celebrating St Andrew's Day," said Mr Purves.
His plea has been backed by various industry leaders.
Rural Economy Secretary, Fergus Ewing, said: "Scotch Lamb to celebrate St Andrew's Day is the perfect union, and I would encourage everyone to get behind this great campaign and support your local hill and upland farmers and crofters."
Quality Meat Scotland (QMS), which oversees and promotes the Scotch Lamb brand, also backed the campaign.
The levy body's chief executive, Alan Clark, said: "We're encouraging everyone in Scotland to get this great tasting and extremely versatile product on the menu so that, from now on, when we think about celebrating St Andrew's Day, we think of Scotch Lamb."
NFU Scotland president Andrew McCornick encouraged everyone in the sheep industry to promote the campaign.
He said: "We should all take the opportunity to enjoy the best on Scotland's national day of celebration. Together we can make delicious Scotch Lamb PGI the national dish for St Andrew's Day."
Events organised to coincide with the campaign include a butchery demonstration and celebration lunch at Balfron High School; a special St Andrew's Day dinner featuring lamb on the Isle of Coll; a St Andrew's night fundraising concert in the Borders; and a special dinner put on by Ballantrae Scout Group in Ayrshire.
Former Scotland rugby captain Rob Wainwright, who is helping organise the Isle of Coll event, said: "This is a great campaign and we got behind it straight away.
"What better way to celebrate St Andrew's Day than bringing our community together for a lamb dinner and ceilidh?"
Those wishing to get involved in the campaign can download a poster to display from the resources section on the UA website www.uagroup.co.uk.