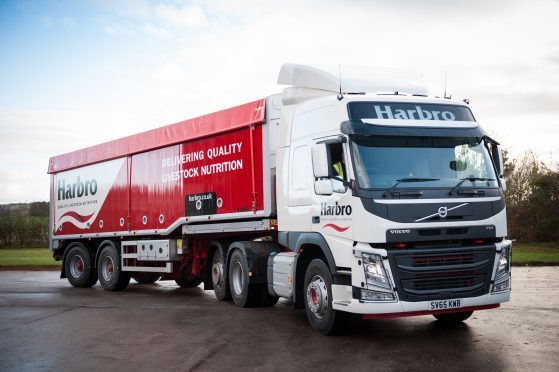 Scotland's largest animal feed manufacturer has blamed difficult trading conditions for a 10% drop in profits.
Turriff-headquartered Harbro Group posted pre-tax profits of £2.801million for the year ended June 30, 2015, which is down from £3.121million the year before.
This was against a £809,000 decrease in turnover to £101.345million for the year.
The bulk of sales – £99.664million – were to the UK however sales to the United States increased by 43% to £117,000 and sales to Europe were up 16% to £1.499million.
Sales to other international markets were worth £65,000 in the year.
Managing director Graham Baxter said the diverse nature of the business, which also includes Feedmix and Strathclyde Nutrition, had lessened the impact of difficult trading conditions in UK agriculture.
"Despite the challenges facing all sectors in the industry, the group is performing broadly in line with business plan expectations," said Mr Baxter.
"The recent issue of delayed Cap farm payments has resulted in an even more challenging environment for our customers. We are always encouraged by the resilience of our customers in these difficult times."
He said the acquisition of retail and agricultural supplies business RH Miller Agriculture, which added three retail outlets to the group's portfolio in the Borders, had added £1.8million turnover to the business.
The company now has 18 retail outlets across Scotland.
Group finance director Ross Baxter – Mr Baxter's son – said an increase in the company's net debt position to £8.609million, from £6.961million previously, had been expected.
He said: "This is primarily due to two new term loans to fund our wind turbine at Birkhill and the acquisition of RH Miller Agriculture Ltd. Cash flow management continues to have a high profile across the group and our focus will be on reducing net debt over the coming 12 months."
The father-and-son duo also revealed that the group's mobile animal feed mixing business – Feedmix – had purchased two new mobile bruising vehicles in the past 12 months and a further two were on order.
On future plans for the group, which employs 411 people and produces 250,000 tonnes of animal feed a year, Graham Baxter, said: "Our strategic approach going forward is to look at different divisions of the business and assess how we can grow by creating a quality and innovative offering to our customers.
"As livestock farming in the UK and globally continues to change and present new challenges, we'll continue to innovate, challenge the norm and develop new ideas, with the same clear focus – to deliver the best possible animal nutrition and performance."